Cavewomen Combat
A little commission an artist makes for me. The final product, I will also put here for you.
The lives of our ancestors were harder and far more dangerous than ours today. In a small secluded valley, in the middle of Europe, a small tribe of people lived a hard but bearable life. Until another tribe moves into the valley. And the situation became bad. No group was willing to share the meagre resources of these spot. And so a bloody feud quickly developed. There were losses among the hunters on both sides and that made the food supply even worse. Soon the women of the tribes were forced to go out on their own to find new food sources for their tribe. In the beginning to be safe from enemies in the group. But that was too slow, so the fastest and most skilful women dared to go searching alone.
Deep in the forest, a blonde and a redheaded woman suddenly faced each other. They knew immediately that they were dealing with a member of the enemy tribe. And they noticed that this member was also alone. The blonde had lost her partner to the enemy, the redhead her brother. Both were full of grief for their loved ones, and full of hatred for the enemy. It was unimaginable for them to avoid this confrontation. They are not stupid. If one even felt even one disadvantage to have, she would have fled. But here they would fight their own battle in this war.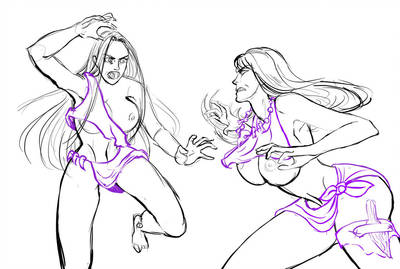 Posted : 07/06/2019 7:17 pm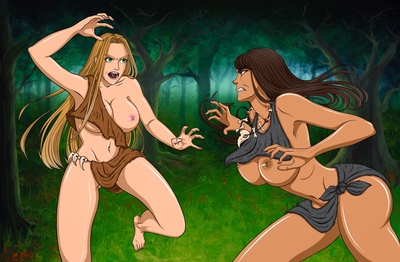 Here is the final picture of the Image. This will be a small Series, and the following pictures will be added here.
Created by https://www.deviantart.com/ryona-neck
And drew you're right, of course. Only there won't be a short peace here.
Posted : 08/06/2019 3:53 pm
This was no ordinary competition. It wasn't about proving which one was stronger. It wasn't about right or justice either. It was also not a fight for the war of the two tribes.
Both women experienced a personal loss. They did not want it to be true when they heard about the death of their loved ones, they cried and mourned. But above all they have learned one thing, to hate.
And their hatred has now found a goal. They did not want to end it quickly. Yes, not even kill fast. They wanted to hurt their opponent as they were hurt themselves. They wanted to inflict their suffering and show her the same pain they felt. If they had known their mutual trauma, they might have recognized the irony behind their meeting. But they did not know it. And in the meantime they didn't care either.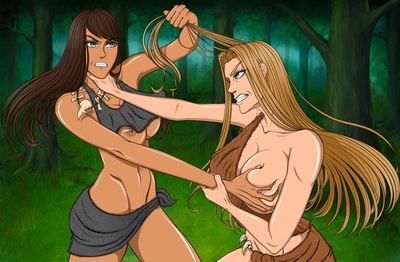 Posted : 30/06/2019 6:32 pm
The brunette almost made it. She dealt more damage than she had to take, and she forced the blonde to the ground. If someone from her tribe could see her now, he wouldn't even recognize her. With her vicious and bloody grin she looked more like a rabid animal than human. She searched for the gaze of her blonde enemy, wanted to see the fear and pain in it before killing her. But...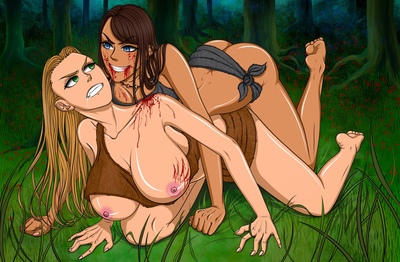 Made by the talented artist Ryona-Neck. https://www.deviantart.com/ryona-neck
Posted : 19/08/2019 7:59 am