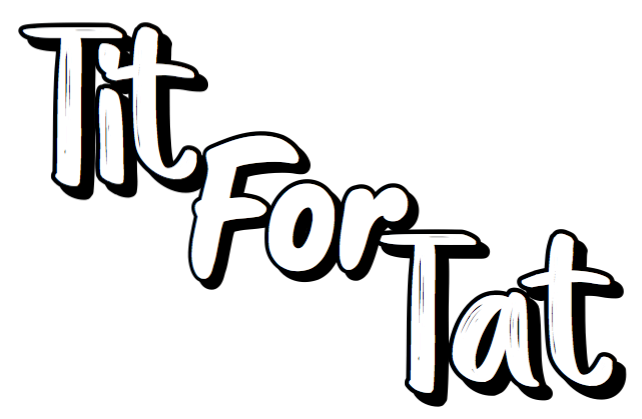 The bitch's breathing had become a wet sucking from between Rhonda's massive tits. It had been a vicious fight and at one point, Ronda felt she would actually have to break a sweat against the woman. But Susan had ended up being just like the other big titted bimbos she had faced; unprepared and ill equipped. She had gone through motions of comparing tits in a bear hug and then a little bit of hands on action, but then she had used her impressive tits to beat the other' bitch's into a bruised and bloody pulp. It had taken maybe thirty minutes ( a new record for her) and now she was reaping her reward.
She lifted her swollen, slightly sore mellons off of the cunt's face. Susan had worn a lot of makeup before the match; heavy mascara, eyeshadow, blush and lipstick. All of it was smeared and dripping now and smeared across Ronda's tits. She was gargling in pain, barely alive.
Just the way I like 'em, Rhonda thought. She held Susan's head down by her thick black hair and slid her swollen wet pussy across her face, spun around, and began to grind her face into her. She surveyed the bitch's broken tit, lacerated and deflated as if she had born twelve children who had stretched her and sucked her dry. Before this fight her tits had been marvelous specimens and now they were a bloody, flabby mass.
Rhonda fucked Susan's face until she climaxed, moaning, clutching onto the ruined chest like the handlebars of a bike.The crowd cheered her on, but not nearly as excited as they had been when the match started. She was used to it; apparently the crowd loved watching the women fight, but only to a certain point. Bobby would confiscate her check again, but it was worth it. The fucking bitch had it coming.
She stood up and spat down on the barely alive remains of the woman that had dared to challenge her. The men sitting in the dark mumbled, a few clapped, but mostly there was silence.
"Jesus Christ, Rhonda." Bobby said, grabbing her by the arm and pulling her out of the makeshift ring and into the dressing area beneath the basement stairs.
"No check," Rhonda asked, slipping her satin robe over her shoulders, letting it hang off of her enormous tits.
"Fuck no!" Bobby hissed. "There's a fucking ambulance on the way. You're lucky she signed the goddamn waiver or else you'd be toast."
"Well what can I say?" She smiled. "You can't find a challenge for me, you might want to try harder."
Bobby tore at his mustache. "You've put almost all of the women you've fought in the hospital, the rest retired for fucking fear. You're ruining this for us."
"Find me a bitch that's willing to die and a crowd that wants to watch and I'll give you a fight worth watching."
"You're fucking crazy," Bobby said.
"You have no idea."Rhonda said.

Meanwhile, on the west coast, Tammy was seeing red. The bitch on the floor beneath her had tried to bite her right tit–and she had almost succeeded. One minute, the men were cheering them on as they twisted each other's tits and screamed. The next, she was seeing red and only as two large arms wrapped beneath her arms and jerked her backward was she able to begin seeing clear again. When she did, the sight before her made her laugh. Sherri, the tan brunette 'chica', was clutching at her right breast and screaming in agony. Blood poured through her fingers and pooled on the blue mats beneath her. It was then tammy noticed the flesh between her fingers; a dark, tan nub surrounded by thin skin. A nipple and half an arreola.
"I'll fucking kill you, bitch!" Tammy screamed as she was pulled away from her prey. "You fucking know it!"
When she was thrown back into the dressing room, she looked herself over in the mirror; her long blonde hair was matted in large nest like clumps where the bitch had tried to pull her hair. Her tits, while marked and raised with welts, were still perfect on her chest. Large and firm, she knew her tits were perfect and that all other women longed to have them. One of the many reasons she hated them…women, that is.
She had only been in the Extreme Titfight Circuit for two years, but it was her home. She had always been picked on as a schoolgirl for her large, perfect tits by all the jealous bitches. The hatred had built her whole life and when she found the circuit, she had taken the opportunity to let all of her frustration out on the tits of her opponents. During her third match she had nearly torn the girl's tits off her chest. Since then, she had gone undefeated on the west coast. She was filled with hate, and she was good at what she did. Too good, apparently.
"That's it. You're out." Woody said,Slamming the door behind him. "Put your damn shirt on, get your shit, and leave."
"You can't do that!" Tammy hissed. "That tape will make over a hundred thousand, easy and you know it!"
"You tore her fucking nipple off, Tam," Woody shouted.
"And i'd tear the other off. She tried to bite me." Tammy shouted back.
"It's a fucking titfight! Not a butchery!" Woody retorted. "You're a fucking psychopath and I am fucking done trying to find a–"
Then his phone rang. He checked it and shook his head.
"Get out," he said as he answered the phone.
Tammy turned to her locker and threw it open.
Am I a Psycho? She wondered. Probably. I fucking need this. I need to pay back all the fucking cunts of the world and their pathetic tits. And if I need this…maybe I am a fucking psycho.
She imagined pulling a shower curtain open to find a large breasted red head lathered up and digging her claws into her udders, complete with violin string accompaniment and blood flowing down the drain.
"Tam," Woody said as she slammed her locker shut.
"What?"
"You want to kill a bitch?"

Rhonda got the call an hour later. She was sitting in her bathtub, lathering her massive tits. She stared at herself in the mirror she had put in above the tub for her "special sessions". She worked her clit like it was a button at an arcade as she pictured herself killing that bitch from this afternoon. Not knocking her out, but killing her. Dead. The bitch would stop breathing beneath the weight of her tits. She would feel the last spasms as the weaker woman died and then…then she would fuck her face, feeling her nose go cold in death, making the climax even–
"Harder…harder…aaaaaagh!" She screamed as she came and it was marvelous…but it wasn't quite the climax she wanted. But the phone call from Bobby changed all that.

"Gentlemen," Bobby said a week later as the lights in the basement–the place Rhonda had considered hallowed ground for the many years she had reigned as the undefeated champion of the eastern coast– and the small crowd grew hushed. "We are here for a solemn occasion."
No kidding, Rhonda thought peeking through the curtain staring at the crowd. The small crowd in the shadows was exactly the kind of crowd you'd want hidden in shadows; men in dark clothes, wearing sunglasses in a dark basement. Men willing to pay over ten grand to watch two women kill each other.
The thought alone made Rhonda's cunt grow heavy and wet. She pulled back and listened to the rest of the introduction.
"It goes without saying that this match will not be filmed. Anyone caught filming this match will be thrown out along with the rest of you. And no refunds."
There was a grim chuckle from the audience.
"Tonight we watch the two most vicious bitches compete till one quits tearing the other apart or…" Bobby let the last bit hang in the air unspoken.
Or until the other bitch bleeds out, Tammy thought. She could hear her heartbeat in her ears. This was what she had been waiting for–a chance to tear a bitch to shreds. Especially her large, fleshy tits. Tammy had heard about Rhonda the "meat tenderizer" and how she loved to weaken her opponents with her massive breasts. She looked down at the black mats on the floor, surrounded by the gauged steel ropes and the two by four posts that made the ring and imagined it covered in blood and chunks of tit flesh. She shuddered with pleasure and ducked back behind the curtain, ready for what was to come.
"Now, let's meet the ladies." Bobby said. "Let's have Rhonda!"
Rhonda emerged from the dressing area beneath the stairs. Her brown hair was pulled up into a bun on her head. Her gigantic tits were held back by a flimsy white t-shirt with a large V cut down the center, exposing her canyon like cleavage. Her thin cotton shorts were black; it his her large wet patch on her crotch very well.
She stepped through the wire ropes and clasped her breasts in her hands, shaking them up and down and pressing them together drawing a large cheer from the men in the dark.
"And now, give a warm welcome to the champion of the West Coast, Tammy!"
Tammy stepped out from behind the curtain already bear chested. Her breasts bounced in a way that almost intimidated Rhonda; they were firm and firm meant durable. Tammy's blonde hair was pulled back in a thick ponytail and her bottoms of choice were a thin white thong that was already splitting her pussy lips wide open. When she entered the ring, Rhonda felt a flash of hatred for her as she began to lift her tits up toward her mouth and lick her lovely pink nipples. The men went wild.
Rhonda grabbed her own shirt and tore it in half, spilling her large breasts out to be seen by all. While less firm, they were heavy and strong. She began to suck on her own nipples, hard and ready.
Tammy saw the breasts for the first time and her desire to rip them apart was almost insatiable. Before she knew what she was doing, her hands had formed into a set of claws and she was nearly a step away from her rival before Bobby stepped between them.
"Ladies," Bobby said. " The rules are simple; we follow the traditional style of our fights. First bell is comparison. Second bell is bearhug. Third bell is pummeling. Forth is hands on. Fifth is no holds bard. After that, the fight ends when one of you either stops or–"
"Is dead." Rhonda said. "Let's get on with it so I can murder this bitch."
Tammy smiled and stepped forward.
"Ready to die, you saggy titted cunt?" She hissed.
Rhonda felt the urge to slap her. But she resisted. Instead she stepped forward and thrust her chest into Tammy's.
"How much did those fake tits cost you?" Rhonda asked.
Tammy thrust back, her hard, pink nipples digging into Rhonda's softer flesh.
Bobby, seeing that they had already begun, threw his hand down and a bell rang.
The fight had begun.
The two women circled one another, their hands on their hips, their chests thrust out like gorillas. Rhoda eyed her rival with a curiosity she had never felt in the ring; this woman was different. Though her tits looked like they should be fake, she wasn't quite sure. She pressed forward again, letting her large, sensitive nipple trace the round shape of Tammy's left breast.
Tammy pressed her left breast forward, letting the the tit explore like a bitch in a dog park. "Go on," Tammy hissed. "Feel it up. All real, bitch. And far better than your saggy sacks." She tossed a hand up, slapping the bottom of Rhonda's left tit. It bounced up and plunged back down, bouncing like a heavy water balloon. In this ritual before the fight, they could explore the other's chest the way two warriors in martial arts will bow to show that they have no weapons as well as show a display of respect. Only there was no respect here…only hate.
Rhonda responded to the slap with one of her own, smacking the left tit downward to watch it bounce up into it's place again. Then she pressed he palm down on it, testing to see how far down it would go before a wince of pain flashed before Tammy's eyes. But it didn't come.
She's a tough bitch.
Tammy had the same realization when she lightly pinched Rhonda's right nipple between her fingers and lifted the fat tit up to Rhonda's nose and dropped it. Typically a drop like that would cause her opponents to gasp and clutch at their tit. But Rhonda only smiled and bit her lip.
This won't be easy.

---
Then the second bell rang.
The women threw their arms open and slammed into each other, signaling the true start to the fight. Their arms wrapped around each other and the bearhug began. Their tits mashed together heaving the tops to their chins and higher as they applied more pressure.
Rhonda's tits being lower had the upper hand as she pressed Tammy's higher. She walked Tammy backward, using her forward momentum to press her against the wall, something that Rhonda always tried to do at the start of her fights.
When they hit the wall, Tammy sucked in a hiss between her teeth. Rhonda smiled and pressed harder.
"Like that, cunt?" Rhonda hissed. "I'm going to burst those pretty little tits of yours."
"Not before I tear yours off, you stupid cow." Tammy said as she tried to pull her tits below Rhonda's. But Rhonda thrust up even harder, driving her nipples into the undersides of Tammy's breasts.
The spectators were silent, listening to each and every bestial sound shared between the two women as the struggled against the wall. Bobby looked over at Woody and waved him over. The two clinked their beer glasses together and watched as the two big titted broads solved their problem for them.
Tammy squirmed as she felt the first signs of swelling appear at the base of her tits, where the perfect sacks met her chest.She had never been overpowered this early in a match.
This is all fucking foreplay. She thought as she stared into Rhonda's eyes. When the fifth bell rings, the bitch is mine.
When the third bell rang, she gave Rhonda a little taste.
At the sound of the bell, Rhonda released Tammy as she did her other opponents; she loved watching them crumple to the floor and clutching their tits in agony. But when she released Tammy, the fucking bitch swung her perky, if not slightly swollen, right tit into hers with such force that it made her stumble to the left. A hot white pain erupted in her chest and she had to bite her tongue to keep herself from crying out.
"Fucking bitch." Rhonda hissed as she swung her large bludgeons into Tammy's. But Tammy was ready for the blow and was not knocked off balance. She did shut her eyes against the weight of the blow, which as promising.
"Fat cow." Tammy screamed.
The two began to slam their tits into the other's making loud smacking sounds that echoed throughout the silent basement. Now both women seemed to be on an even playing field as their hard, skilled nipples punched into the other's breasts, leaving quarter sized bruises behind.
At one point, Rhonda managed to swing her breasts into Tammy's so hard that the two both howled in agony afterward. Never in all her time in the ring had Rhonda hurt herself like that. Tammy was having a hard time waiting for the fourth bell. More than anything she wanted to sink her nails into the smug cunt's tits and rip them to pieces.
Rhonda grabbed hold of Tammy's waist, pulled her in close and continued the onslaught, each tit smack like a blow from a cat o' nine tails on Tammy's breasts. But for each she gave, she got one back and Rhonda began to see the glossy sheen on her breasts that was the telltale sign of swelling.
The the fourth bell rang.
"My turn, whore." Tammy hissed. She threw both hands down, grabbed the pendulous breasts, and ripped them downward toward the now obvious wet patch on Rhonda's shorts. Rhonda screamed as the white heat returned in almost blinding intensity. She retaliated by cupping Tammy's breasts and driving the heel of her palms into the bruised and swollen connective tissue and lifted up. Tammy tried to hold her screams back but to no avail.
"OOOOOHHHHH, YOU CUNT!" Tammy cried out as she began to puncture the flesh around Rhonda's areolas with her long, acid green nails. Now this was her game.
"YOU COCK SUCKER! YOU FUCKING BITCH!" Rhonda screamed, feeling a pain she hadn't felt in a long time. Usually by the time she had gotten to hands on, her opponent was so weak and crippled with pain that they were hardly able to break skin. But this whore had managed to tear into her tits with no problem. She had underestimated the bitch.
She released Tammy's tits and wrapped an arm around her left tit, side stepping so she could get a tight grip, and began to punch the tit as hard as she could. Tammy screamed as Rhonda's tit lock punches drove her back. Her grip on Rhonda's tits tightened and she began to jerk them around Rhonda's body. Their arms wove together like a strange tentacled thing; arms punched and nails tore into the large tits, bringing the cries of the women into full force.
"I'm going to fucking kill you, whore." Rhonda hissed into Tammy's ear as she ground a fist into Tammy's engorged left breast, twisting it, feeling fat cells break apart and turn to mush. When she pulled her fist back, she saw that while swollen, Tammy's left breast also seemed to sag just a bit.
Meanwhile, Tammy used her nails like carving knives to tear the nipple off of Rhonda's right tit. She had managed to get it about a fourth of the way off when the fifth bell rang.
Rhonda looked down and saw her nipple hanging like a flap of skin and felt her knees began to shake. This fight would leave her scarred for sure. BUt if she wanted to prevent an early retirement, she would need to fight dirty. She released Tammy's breast and drove a fist hard into Tammy's right cheek, knocking her against the wall. The crowd groaned.
"Fuck you!" She screamed at them, clutching at her mangled right breast. Blood poured from the wound.
"You cheating cunt." Tamy spat as she sank to her knees, cradling her tits in her arms. The acton alone was nearly crippling. She looked down at her breasts and saw that they had swollen by half; they were covered in ugly purple and red bruises, the skin pulled so tight across them that she thought they would burst before too long.
"Fight to the death, whore…" Rhonda hissed, pressing her sore, mangled tits together in a show of female dominance. "I'm going to bust those melons wide open and smother you between theses."
Rhonda charged at her but Tammy shoved her leg out and tripped the bitch. Rhonda fell to the floor landing on her tits, screaming and flinching into a ball to hold in the pain.
The Tammy was on her. She threw herself onto Rhonda's back and screamed in fury and pain as she tore into Rhonda's chest like a wild animal. But Rhonda rolled over, pinning Tammy between the floor and her back. She leaned upward and threw her weight down, crushing Tammy's breasts beneath her. Tammy screamed and raked her talons up Rhonda's tits and into her face. Rhonda bit the cunt's fingers drawing blood, forcing her to let go.
Rhonda flipped over and pressed her juggs into Tammy, pinning her hands down by her head. Tammy's face was streaked with tears and drops of blood where her fingers had dripped on her, but her face was a picture of wrath.
"I'll fuck your face when you're dead."
Tammy spat into Rhonda's face.
"I'll make you eat your fucking tits till you choke!" Tammy screamed. But Rhonda was on top, and now it was time for her to finish this bitch. She began to slam her chest down on Tammy over and over again but her the bitch just kept fighting back, thrusting her tits upward to receive each blow. The fucking bitch wouldn't quit.
"You won't last long now, pig fucker." Rhonda hissed. But in that instant, her right breast exploded in agony as Tammy's sharp, powerful nipple found the torn flesh and impaled it. Rhonda screamed in agony as every exposed nerve in her right tit lit up in a blaze of searing flame. She rolled off of Tammy, clutching at her breast; it was bleeding again and now a flap of skin that had once been her areola hung like a rag.
Tammy sprang to her knees and tackled Rhonda to the ground, slamming her swollen, stiff tits into Rhonda's. Now she had the cunt; she drove her nipple into the slit once more and savored the cow's screams. She began to grind her breasts into Rhonda's using the same cheap tricks that had been used against her. Rhonda, screaming like a banshee, tried to claw at Tammy's face, but Tammy pinned her hands down just as hers had been a moment ago.
"Like this, cunt?" Tammy used her breasts to press Rhondas up to her chin. She slammed into her so hard that she could actually see the tear in her skin grow across her right tit, blood pouring freely.
Rhonda began to lose strength. She tried to roll Tammy off of her but before she could, Tammy shifted and then began to slam her tits in Rhonda's face. Each slap sent jolts of electric pain through Tammy's body, but it was worth it to see the saggy titted cunt twitch and cry out with each blow. And with each blow, she spat and cursed at the broken woman beneath her.
"SMOTHER ME, BITCH?" Tammy screamed. "FUCK YOU!" She pressed her breasts into Rhonda's face and held them down, feeling her warm breath grow weak and cold. "FUCKING CHOKE, WHORE!" She pressed down until she felt one of her breasts rupture, the horrible dark bruises seeping out, rendering one breast into a saggy bag of flesh. But as she cradled her burst tit, she saw that Rhonda was unconscious.
"Oh no…" Tammy sobbed. "You aren't going that easy, bitch." She dropped her useless breast and grabbed hold of Rhonda's shredded right tit. She began to rip the skin from the large sack, rousing Rhonda into a fit of weak screaming. As Tammy ripped the nipple from Rhonda's right tit, she shoved it down her throat, forcing her to swallow it.
"TASTE GOOD?" Tammy shouted. Then she bit into the raw open flesh and began to tear it from Rhonda's chest. With her free hand she began to pull at the swollen left tit, jerking at it until the skin began to make a sickening *pop* sound.
Rhonda had lost feeling in her chest and her body felt very cold. She wondered if Tammy had died; the woman was covered in blood. There was no way someone who had lost that much blood could be alive…
Impossible.
Tammy held a large chunk of left tit in her hand as she raised her arms in victory. Rhonda was nearly gone; she had taken on a dead eyed look and was uttering one word over and over again. "Impossible…impossible…impossi–"
Tammy threw the piece of flesh into the crowd and pressed her blood covered tits into Rhonda's face once more and suffocated her. The bitch gave one final, weak kick…and then she was dead.
"I fucking told you, cunt." Tammy cackled. She was crying and laughing at the same time. Pain spasmed through her with each breath. But more than pain was the heat in her crotch. She slid up the body, noting how fast the warm skin began to turn cold. She began to fuck Rhonda's face, holding her by the hair, pressing the cold bitch's nose into her warm wet hole.
"KILLED YOU, BITCH!" She screamed. "MMMM.AAAAAAHHH. OOOOOOOH!"
Soon, she climaxed. It was the most powerful climax of her life. And after she finished, she stared the crowd down. The looked at her in a mixture of horror and arousal. She smiled through a mask of gore and waved her breasts at them.
"I'm finished." She said, grinding her cunt into her victims face one more time. Then she let them drag her away, her victory complete.
The End

Thank you for reading! For more of Claire Bear's Stories: Click Here!