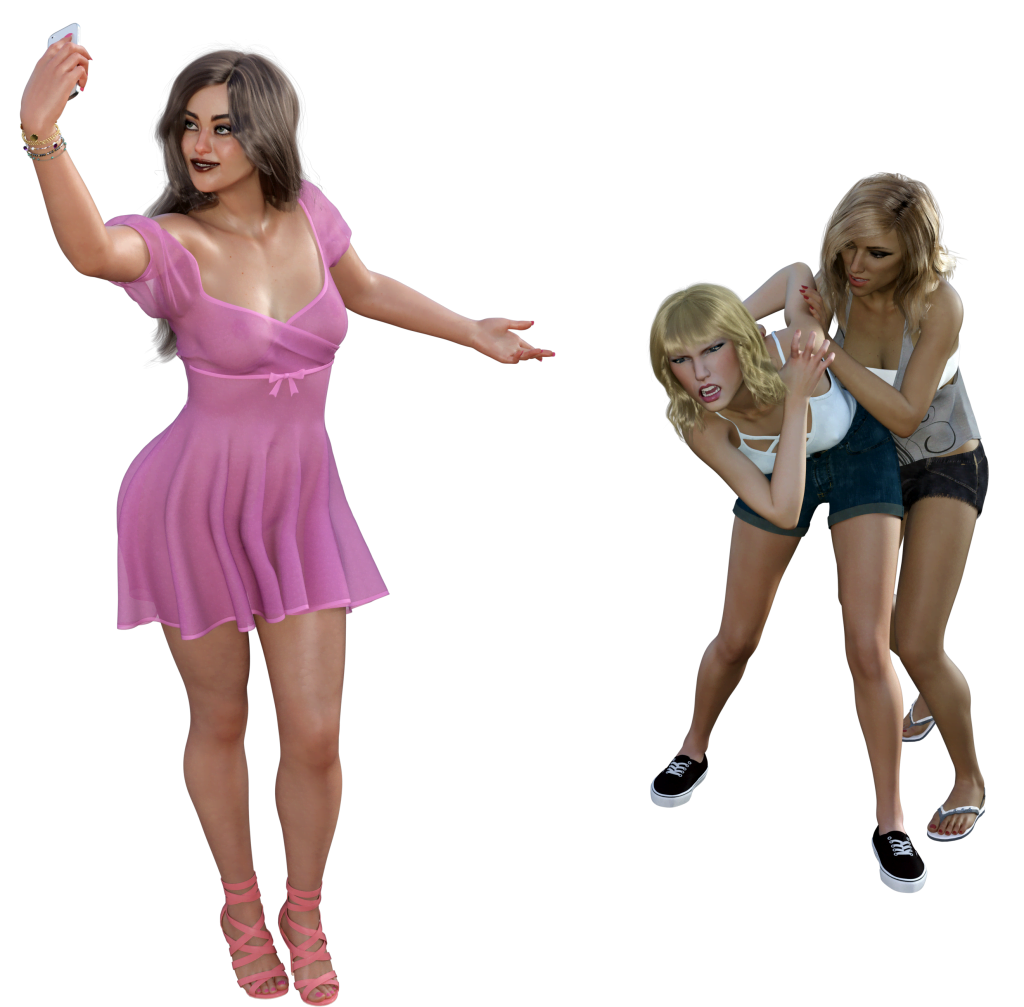 BritneyTussles: I'm nervous as HELL.. but equally as excited to be given the chance to do this.. my heart racing in my chest.. this self-isolation thing has many emotions stirring lately.. but somehow winning a contest to have a one on one hang with Taylor has me incredibly happy.. pacing around my modest one bedroom apartment.. it's super tidy and clean, keeping up to COVID-19 standards.. barefoot, my hands up, tending to my blonde hair.. my smooth armpits and small biceps on display.. clad in short denim cutoffs, pockets showing.. tight tank top hugging over a lace bra.. casual and comfortable.. waiting around patiently for you to arrive.

Jennifer "The Better Woman" as Taylor: I was livid when my management told me what they had planned. Outraged as they laid it out to me. In the midst of this whole covfefe virus I would be the prize in some kind of contest. A contest to hangout with a fan.
Ugh! Can you even imagine? How boring it would have been? Having to sit there and make small talk with her. Answering questions about my songs and performances — videos and stage wardrobe. Why did you and Katy Perry stop being friends? And how did you make up, she no doubt would have asked.
That is if I hadn't made a decision. One that will turn this entire fiasco into something I want. Something I desire. And not just some feel-good press piece. That is to live out my fantasy. To have, for the first time in my life a catfight. The feeling of pulling another girl's hair as she pulls mine. Something I have wanted to do since before I could remember. Something this girl … this Britney will help me with, whether she wants to or not.
A thought that brings a smile to my face, as at your door I knock. My security told to wait in the lobby of the building. My thin flip-flops ready to flop off, as above them my shorter than short cut-off jeans and tank top that matches yours, though in yellow sit snug on my thin and yet sexy body. The red lace bra and panty set beneath just barely visible above the pulled-down lip of both my top and bottom.
Once I drag you into my fantasy. Once I force you to be my release.

Britney: My heart skips a beat the very instant I hear that knock at my door.. my attention drawn over to the only thing separating us from our meeting. Taking a deep breath, then being quick to head on over.. my left hand flashing up to run fingers through my hair.. my right hand reaching out to the doorknob, twisting and opening up.. setting eyes on you for the very first time in person.. "Taylor, omg, umm, hey!" .. "Thanks for coming, come on in!" ..I express, civil as can be.. moving out of the way as I hold the door open for you.. trying so hard not to be star struck in this moment.

Taylor (Jennifer): After only a breath or two, the door to your apartment opens and when it does, there you are. Smiling. Greeting. Nervous, but trying to hide it. And in return, I pretend. To like you. To be the nice, pleasant Taylor I play on TV. Watching as you first allow me entrance and then take the lead by passing me, as you move deeper into your apartment. Your quick steps taking us to your living room and the drinks and snacks you have arranged there.

Once there, you ask me to sit and I do. Not in the seat you clearly planned me to, but after you sit down on your longer couch, I sit right next to you. Pressing the exposed flesh of my left thigh and that of your right. Making sure to make you feel uncomfortable, as you fight to control your own anxieties.

Britney: I end up sitting down on the couch, and you plop right down next to me.. feeling the smoothness of your left thigh up against my right.. I turn my head slightly, my eyes on yours.. face rather blank.. my left hand coming up to nervously hook hair over my ear.. you having not said a word to me yet.. "Umm, so yeah… this is crazy to meet you!" ..fumbling with my words a bit.. scooting a few inches to my left a bit as you get in my comfort zone… my right hand at my lap….

Taylor (Jennifer): I watch you like a tigress — a huntress. Waiting for the right time to strike. Trying to decide if I make you an offer, or just take you. Just grab you, and leave you no choice but to fight back. To make that call I read your eyes as you scoot away from me. Your non-verbals as you place your hand in your own lap. And the timidness in your voice as you try to speak to me.

All which lead me to crawl up on the couch, on my knees, and with my eyes narrowed, to speak — ignoring your comment about meeting me. "Britney, I need you to help me…." I pause letting it sink in that I have taken the effort to learn and then remember your name. "I have wanted something my entire life, and I … I want YOU to give it to me. Will you?" I ask, knowing I haven;t revealed what it is I want from you.

Britney: My heart skips a beat as you shift your way up onto the couch, on your knees.. your taller frame towering over me some, casting a bit of a shadow.. that forces me to turn slightly to face you better, but still sitting.. my back arching.. my right hand reaching up to grip the back of the couch firmly.. my left hand just kinda up – awkwardly so.. "Umm, uhh.. well I.. I.. I guess it depends on what that is?!" ..my head tilting slightly, a little taken aback at this sudden request.. my mind racing at what it could be.

Taylor (Jennifer): I can tell you are confused but excited — thrilled and yet worried. And to make that worse, and to capitalize on your waiting for me to answer your questions, I reach out and lace my fingers through your hair. Softly. Sweetly. Like a love would. And then, before you can tell me to stop or swat my hands away, I seize your hair tight and jerk your head hard towards me.

"I need you to fight me, bitch." I growl, as my eyes go from a soft, needing gaze to a glare. "To catfight with me, until one of us gives…. DO YOU UNDERSTAND!?" I demand once and then again, still wrenching at your beautiful hair. Pulling you up, and towards me.

Britney: My confusion is soon met with a rough YANK as you latch onto my hair.. pulling my head up and in towards you.. my right hand instinctively reaching up to just grasp your left forearm tightly.. letting a short girly grunt escape me.. "Muh!" ..hearing you loud and clear.. "Yo.. MUH!" .. what the FUCK?!" ..totally caught off guard.. my stomach in knots, heart racing.. my left hand coming up just to plant against your firm tummy.. letting this all sink in….

Taylor (Jennifer): You have it in you, I can see it. I can feel it. The strength. The fire. All I have to do is draw it out. And so as you linger and writhe in shock, I let loose with my right hand, pull it out just a foot, and then bring it back in, landing it across your cheek in a moderate slap. "Come on, Britney! Fight me!"

I once more demand, my heart pounding and pulse racing at the thought of finally having my fantasy — as violent and illogical as it may be.

Britney: I stiffen up and flinch the moment your right hand whips up, clipping off the side of my face with that moderate slap.. outright telling me to fight you.. this warm overwhelming rush runs through my entire body, even giving me goosebumps on my skin.. your left hand keeps tight in my hair.. my right hand switching from your wrist up to latch onto your shorter blonde hair in return.. giving your head that FIRM tug downwards that you want.. that you crave.. my left foot plants down to the floor.. shifting to work my right knee up onto the couch.. my left hand swinging out wide with a harder THAP to the side of your fit skinny bod…

Taylor (Jennifer): It's coming! It's building! I can sense it with every fiber of my being. You're on the verge of giving it to me. Yes! Yes! Yes! I think to myself, as suddenly you join me, in a kneel on the couch, even if only with one leg. Your hand moving from defense to offense in a hard slap against my body, while your right hand moves to my curly blonde hair and yanks.

"Yes!" I shout, as finally you engage me. My right knee moving in, followed by my left as against your skinny body I press mine. Still yanking, still glaring, our fight just beginning. My right hand moving back to your hair to pull and push you back. My intention to fold you back over, and press you to your back on the couch.

Britney: The initial shock setting in, but I'm suddenly on auto-pilot.. just going along with your momentum as you inch your way in tight.. your skinny frame matching mine but taller.. your right hand joins in my hair and my head is yanked straight back.. "MUH!" ..I grunt out loud, my neck kinking and stretching long until you sink me to my back on this couch.. my right leg stuck.. my left leg swinging up and over your lower back.. my left hand reaching up to join in your hair with this mutual pull, tugging your head straight down in towards me.. "NNGH!"

Taylor (Jennifer): It is like heaven, this moment. This battle. This war, I have convinced you to join me in. My advancements on the couch, and then body-to-body lean taking us down to the couch together. You on bottom and me on top. Your leg raising and hooking around me as we pull and tug at each other's hair.

"Give it to me, you bitch. I know you like it!" I growl at you, half in an anger caused by pain, and half in a desire to keep you from backing out. Not that you can at that moment, my light body atop yours. Our skin-tight tops working themselves up an inch or two as back and forth our heads snap.

Britney: You keep tight in my hair, playing rough by trading stiff tugs with me.. my fingers latched into two small fists that are glued to your skull.. I grunt and tense up my stomach muscles so I can get my arms straight.. "NNGH!" ..yanking your head straight back, looking to stretch your neck long and make you look up at the ceiling of my apartment.. both feeling what it's like to fight another woman for the very first time.. going with the flow, staying in this proposal you've forced upon me.. my left foot sliding up to wedge against your right hip firmly…

Taylor (Jennifer): It is all intensity. All imagination come alive. Our battle of yanks or tugs. But then, as you dive further into it with me, I feel your hands pulling my hair back so hard I cannot help but sit back up atop you. Can't help but leave our cocoon of latched and tensed bodies, and give into your pull. My hands leaving your hair, reaching up and behind me, and latching onto your wrists as the pain becomes to great for me to handle. "Owe, owe, owe!" I cry out, not as a message for you to release, but because your pulling hurts, and I have no other choice but to express it with sound.

Britney: I keep my arms straight and my fingers latched into your hair.. allowing myself to sit up as you arch back with your smooth armpits on display while you reach back to snag my wrists.. lessening the pressure on your scalp.. I muscle forward, bringing my skinny core up into yours.. my mound awkwardly up against your tummy while my left leg slips over your right thigh.. my left hand leaving your hair, but you have my wrist nice and tight, I try muscling my arm to the side to help shove into you.. seeing if I can tip you straight back… "NNGH!"

Taylor (Jennifer): Every bit of it is glory and joy. The pain I inflict, the suffering you return, the sound of your lips parting to whimper, the same utterances in reply. And so even as I begin to flounder, reaching for your hands and failing to find them as you sit up and press your hot little body into mine, I can help but moan. Not wantonly or as if my resolve to fight is breaking, but in response to it all nonetheless.

The sound of it escaping my lips as you push harder and lean more, forcing me to fall back onto the ouch. My shoulders crashing down on the couch, leaving me open and vulnerable. A feeling I have sought for so very long.

Britney: Your hands awkward to try and find my wrists, you had them at one point.. but when I thrust forward, I manage to sink you straight down to the couch.. I keep my right hand in your hair, tugging the back of your head up off the couch with a short but firm TUG.. my right hand fighting off to the side, fishing around to try and catch your right wrist in my small hand.. I push my body down on yours, then allow my right knee to slip over your hip.. mounting Taylor Swift down on my large couch.. my mouth hanging open to breathe, tossing my hair back with a whip of my head..

Taylor (Jennifer): From one side of the couch to the other the pendulum of our just beginning battle swings. You pushing me back, pushing me down, and then mounting me in your own living room. Your right hand catching my wrist, just as you flip your hair back and look down at me. My eyes on fire with passion and intensity. Like my body which bucks up into you, trying to throw you off.

"You wait till I get you off of me…." I growl in frustration — my one free hand moving to grab at your hair, though it remains just out of reach.

Britney: My left hand snagging your right wrist, pulling your arm out to the side and down off the couch a bit.. my right hand keeps in your short blonde hair, tugging upwards, tilting your chin to point towards your small chest.. your left hand reaching up, but I sway my head back just out of reach.. sitting up high on you as you buck your hips upwards, shifting me forward awkwardly.. my left foot planting to the floor again.. my right knee sliding up just to plant and press down on your flat stomach.. threatening me after what was a total instigation on your part, forcing me to fight you.. my heart racing, overwhelmed with intense excitement.

Taylor (Jennifer): You have me pinned and I hate it. Hate you. Not because I didn't invite you to fight me. Not because I didn't long for this. But instead because I want to hate you. Want to see you as my enemy to make the fantasy we live there in your living room real.

And so I curse at you, when despite my struggles I can't get you off. "Bitch! Ungh!" My still free hand moving to your tight top. Not to pull it off of you, but to try and pull you down or over. Something! Anything, to give me the angle to turn the tables on you. My right arm struggling against yours to get free. My wild bucking continuing, as I begin to throw a bratty fit. "You don't have the … the … GUTS to hurt me!"

Britney: Your right arm muscling out to the side, struggling with the grip I have around your skinny wrist.. making your lanky arm flex and fight with me.. your bucking hips slap upwards, shifting me.. rocking me to the side as your left hand latches onto my tank top, strrrrretching it tight against my skinny bod as you haul to the side.. tipping me to my left, slipping down and off of you.. my knees sinking to the floor in front of the couch.. my feet quick to try and get under me.. my right hand keeps in your hair, tugging you back up to sitting again with a firm grip of your hair, tugging your head forwards.. "MUH!" ..left hand leaving your wrist and slaps down to the coffee table for support.

Taylor (Jennifer): Finally I have you moving, shifting, and anywhere but pinning me helplessly. And with you that far, but no further, and as you pull me up to a seated position, I drive forward. Hard enough to press through you and then with my hands in your hair, pull you up to your feet just as I reach mine.

My every ounce of strength spent yanking your head from side to side, as once again our thin bodies press together. My height advantage letting me toss you perhaps an inch further, though your clear strength advantage makes your tugs hurt just a little more.

Britney: My left hand pushing up on the coffee table as you sink your hands back into my hair.. you're up to your feet moments later, pulling me back up straight before shoving your fit skinny body into mine.. your taller frame inching me back a few involuntary steps in my living room.. my left hand reaching up to join in your hair, tugging firmly.. locked in this very even and very real catfight with you.. my heart pounding, keeping up with you the best I can, turning your head to the side, making you look off to the far wall.. "Is this… is THIS what you wanted… huh?" .. panting.. "HUH?!" ..calling you out.

Taylor (Jennifer): Together we stagger away from your couch and your coffee table, out into the more open farside of your living room. Each of us yanking at each other's hair as we clench tightly. Our thighs, thin though they are catching and banging together, until finally I extend a leg and hook my right calf behind your left.

Locking it in place, just as my flip flops fall off. One I trip on and into you, sending us crashing down to your carpeted floor.
"Uuummmnnppphh" I grunt out, while my legs wrap around yours. My new focus being to push us into a roll, to keep you from pinning me down on my back once more.

Britney: Your flip flops kick off, stumbling over one of them as you march in towards me.. hooking that bare right calf around the back of my left leg, pulling it out from under me and sending me sprawling onto my own thin carpet.. my left hand leaving your hair to SLAP down to the floor to help break my fall.. "NGHH!" ..this bust of air rushing out of me on impact.. you push, and send me rocking.. worked over to my back by default.. my right hand keeps in your hair, looking to PULL and keep the roll going.. bucking my hips into yours.. your legs smartly wrapping around mine, keeping me in check.

Taylor (Jennifer): There, with the freedom to do so, we lock each other in tight and then roll. Up and then over. Up and then over. Again and again, until we run out of room. Only to then stop and head back the other way. Our right hands in each other's hair as with my left I begin to slap at you. Not with all of the might I might muster, but in tiny stinging slaps I land on whatever flesh I can find.

Our hips, in the little freedom we have given them, thrusting forward to try to overpower and hurt each other.As we roll, my voice finally coming through to reply to your question. "YES, this is exactly what I wanted!"

Britney: You force this rollover – rocking over and over inevitable battle for position.. unsure where I even am – but apparently we keep rolling.. your right hand TIGHT in my blonde hair, both my hands in yours while your left hand whips short but stinging slaps, clipping off my arm, shoulder, body.. wincing me in this intensely real catfight.. shifting my weight into you, wanting to stop this stupid rolling.. your legs still kinda around mine awkwardly.. I tug the side of your head down to the floor, just wanting to stop us right there and then.. panting…. your words intense, letting me know what's up.

Taylor (Jennifer): In a sudden application of force and desire you bring an end to our endless series of up and over turns. Your hair-bound hand yanking me head down and into the floor hard. So hard that I yelp out in pain, my legs detaching from yours as you pin me beneath you. My eyes narrowed in a glare and lips pursed so that I can hiss at you through my ragged breaths.

"Fuck you!" I blurt out as my free hand moves to your hair like its counter part and pulls once again.

Britney: I muscle my hips down to yours, then instinctively swinging my right leg up and over your body, slipping into another tight little straddle.. my light body pressing on top of you.. my denim-clad V firm against your flat tummy.. wincing me as you join both hands in my hair, pulling my head in your control.. "Nah.. fuck YOU, bitch!" .. "You wanted to fight me! Fight me!" ..I blurt out.. you bringing the fire inside me out.. having never felt anything like this before.. your stardom gone, focused only on this stranger – trying to make me give with this taboo sport of hers…. Fingers staying clenched in your hair, knuckles glued to your skull for support.

Taylor (Jennifer): With every second we spend fighting I begin to become less in your eyes. Not Taylor, not a singer, not a celebrity. But a rival — an enemy. It is an anonymity I chase more and more as I see the fever of our battle take you. My hands pulling so hard at your hair that they ache. But that ache doesn't stop me, instead it drives me. Seeing the anger and hatred in your eyes through the tears that begin to well on my own. Your pull just as hard and the pain you inflict just as real.

Each of us cursing at each other as there on the floor we refuse to let go. "I'LL MAKE YOU BEG ME TO STOP, BITCH!!!"

Britney: My mound tight against your flat stomach, bearing some weight down on you.. my knees and thighs come up snug against each side of your body for support.. both of your small hands clenched in my hair – my own hands in yours.. my scalp showing white from your intense grip.. making my teeth clench and show, wincing HARD ..my voice quivers as I grrrowl at your words.. "Ohhhh – you ain't shit, bitch!" ..unable to help myself, you forcing my anger out of me.. playing into this whole thing.. your entire plan was to come here and see if things go your way, like they usually do.. I YANK your head up off the floor with my left hand.. my right hand letting go to whip a few close moderate slaps to the side of your neck and face.. PAP SLAP .

Taylor (Jennifer): Closer and closer we pull! Overflowing with rage and a need for revenge! Neither of us having any reason to fight, apart from my long-burning desires. Desires that move from wishes to joyous satisfaction as I copy you. Moving my left hand from your hair and slapping at you, just as you slap at me. Our fingers coming down like mini-whips lashing against our exposed skin with audible little splats.

Sounds that fill the room along with our whimpers and yelps. The soundtrack to our struggle, one I look to turn in my favor by suddenly yanking you left, and trying to roll you off of me, so that I can straddle you! Pin you down! And show you which of us is in control!

Britney: Taking a few left handed swats, clipping off me in turn, trading with you in close.. I stiffen up as you YANK me left.. my body twisting to the side, shoulder and head leading the way with a rough turn of events.. I GRUNT out loud, rocked to my back with you coming up on top, making sure to work your legs over mine, smartly slipping into full mount.. my teary eyes blinking up at you with a cringe.. face twisted from the pressure on my poor scalp.. my right forearm up to instinctively cover my head.. my left hand holding onto your hair, arm extended.

Taylor (Jennifer): Finally! I have the mount. Sitting above you, though each of us leaves a single hand in the others hair. Your extra hand moving to your face to cover it, just as I with a wicked smirk do the same. Leaning in and down to press my still-clothing covered tits into your face. Your grip on my golden locks making my head bend back. A price I am willing to pay to place you there, between my small but perky breasts. Breasts on which sweat begins to form.

Britney: "MUMPH!" ..my eyes grow wide suddenly.. your small but firm orbs coming down to cover my face, scrunching me up, making my eyes squint shut.. taking it.. I throw my right arm around your back, hugging you down in tight.. my left hand leaving your hair, letting your head pop back forward proper.. reaching up to cup under your right arm, just holding on.. my feet planted, back and shoulders pinned to the floor.. "Mmnnffhh!"

Taylor (Jennifer): "Mmmm, yes! Give into it, bitch!" I shout in celebration as I feel you release my hair. My arms wrapping around the back of your head to keep you trapped and breathless. My bare feet sliding in from outside of your thighs and cupping against your ass covered jeans. Almost as if I am curling into a ball atop you.

Britney: Unable to help from going into total defence mode.. your turtle your way on top of me, even feeling your feet tuck in under my denim-clad butt for support.. bearing down on me, giving me all the intensity your light tall body can do to me.. I'm totally stiff, my back and shoulders glued to the thin carpet of my living room.. Tay herself showing me up in my own apartment.. your arms curling and tightening behind the back of my neck, pulling my head up in check.. "Mmnnfffhhnn!" ..my right hand swatting your back with a short little pap ..snagging your tank top and strrrrretching it to the side in protest.. my left hand feeling just how tight you are…

Taylor (Jennifer): Half of me wants to keep you like this forever. Beneath me and timid. Under my breasts and scared of how long I might have you trapped. But another part of me, the part that got us into this in the first place longs for more. More fire and anger. More rage and writhing. And so as you tug and my shirt and slap my back, I suddenly surge forward. Looking to sit on your face. To pin you down under an even more intimate part of my body. But as I go I move to fast, your pulling at my shirt throwing me off balance and forcing me to trip forward, my right knee moving way past your face. Leaving you an opening.

Britney: Your greed for more backfires.. moving up too fast, me pulling at your top sending you further than you expected.. I GASP and twist my hips, working to my front straight away.. leaving your top, both hands SLAP down to the floor, pushing myself up to my hands and knees.. "Nrah!" ..lunging in as quick as I can, wanting to take your back.. throwing both arms around your waist from behind, wedging my V up tight against your butt for support.. on my knees… back in this fight.. Panting…

Taylor (Jennifer): Damnit! Damnit! Damnit! I curse to myself, as I drop down to all fours. You chasing after me, and diving onto my back. Your hands wrapping around my waist and pulling me into you. Your jean-bound mound slamming into the tight meeting place of my pussy and ass. The contact making my eyes close and my lips to part in as they set loose a barely audible moan. A sound I offer as I rear back up, still on my knees, but back moving towards you.

Britney: I let out a short little grunt of effort and frustration as your skinny body stiffens up in my arms.. your back raising up to me.. forcing my small chest to press into your shoulders.. caught up in the moment of this catfight.. my knees dig into the floor, raising up on them to stay in tight.. my left arm clutching around your stomach.. my right hand reaching up blindly to latch onto your hair at the side of your head, catching some of your ear at the same time on accident.. giving your head a sharp TUG to our right.. "NRUH!" .

Taylor (Jennifer): I am still out of sorts and trying to recover as I rise up and feel your upper body tummy and breasts press against my back. A sensation that befuddles me even more, and enough to leave me no time for offense before you grab my hair and toss me right and down to the rug. My body crashing down hard on the carpeted floor as I groan out and then curse. "Bitch…." The clarity I once spoke with missing. My voice telling you I am getting tired.

Britney: Giving you your very first catfight.. you giving me mine.. I woman handle you by your hair, rocking you to the right and downwards.. wanting nothing more than to show you up at your own proposal, giving it to you hard.. I throw myself at you.. tits first at your back as I look to continue and muscle you to the floor.. wanting you on your stomach while I work to mount your back.. my dominant right hand re-gripping your hair at the back of your head, shoving your face down to the carpet.. my left hand reaching out to try and snag your left arm at the wrist… panting.. my chest and tummy heaving, working for it…

Taylor (Jennifer): On the floor and squirming, you jump on my back, pinning me to the floor. Your right hand buried in my hand, as your left catches my wrist. I try to buck you off, to throw you left or right so I can attack you once more. But you have me. My right arm reaching up and back to grab your hair, but I catch nothing but air! A fact that makes me kick and scream like a brat, as I realize how good you have me.

Britney: Seeing your right hand reach back blindly for my hair.. but I sway my head back and out of the way.. getting nice and snug on you.. using my knees to dig into your ribs for support.. my thighs tight against your sides.. my V pressing into your firm back.. I keep your left arm muscled out to the side by your wrist.. my right hand suddenly giving your head a YANK straight back, stretching your neck long and holding your head in place.. making you look off to the kitchen, forcing your back to arch from my flexing grip.. "Nnnyyeah!!"

Taylor (Jennifer): I wanted all of this! You and our catfight. The hairpulling. The wrestling for control. But now, you have me. Now it hurts and I can do nothing about it. Your hand pulling up at my hair hard and making my neck bend back far and painfully. It hurts so bad. But I need to resist. To fight you, until I have no choice but to give in! And so still, despite my inability to reach you, I curse. "Fuck you, Britney! Fuck you!"

Britney: This intensely dominant position in my favour.. I keep my lower body prone, even tucking my feet in under your hips a bit.. my thighs hugging your sides.. I keep your head lifted straight back, even your small chest lifting from the floor.. my right hand holding your hair tightly, stretching you out long.. my left hand leaving your wrist to whip in an awkward but HARD SLAP to the left side of your tit, thudding your ribs.. then whipping a SLAP to the side of your head, fingers joining in your hair to help arch your back.. pulling… "Nnnrrah give!" ..I call out to you.

Taylor (Jennifer): Still I reach for you and still I fail. My eyes welling with tears and my lungs sucking in oxygen as I begin to sob beneath you. "Bitch!" I scream, before slamming my one free hand into the carpet. Your sexy thin body wrapped around mine. Your feet beneath my hips and keeping me from rolling. Your grip on my hair and yanking keeping me in constant pain. A pain I try to withstand, try to fight through, until in a sudden fit of realization and desperation I scream out. "I give! I give! You bitch!"

Britney: Holding you like this, keeping your head lifted straight back by your hair.. giving your head a little shake in my tight grip.. "You give?!" .. "HUH?!" .. "HUH?!" ..then roughly letting your hair go, shoving at the back of your head.. my left hand planting to the floor next to me.. keeping this straddle on you for a moment, but totally relaxing every muscle with a gasp… "Gawd… you fuck.." ..panting.. my heart racing.. hair a fucked up mess.. face red.. sweating.. tank top twisted, bra strap showing.. then slowly lifting my right leg up and over, working to my knees next to you…..

Taylor (Jennifer): I give. To you. To a nobody. To Britney the girl that won the contest. And though I hate it. And you. As my mind floods with shame and regret, also comes a feeling of appreciation and satisfied desire. Equal and opposite emotions I struggle to control as you linger atop me. Letting my hair go, but keeping your position. Until finally you lift your leg and shift off to my side.

You giving me the chance to get up, and I take it. Quickly. And though I want to run away from you. And never look at your pretty, make-up smeared face again, I stop on my knees next to you. From there I reach out slowly. Carefully. And timidly. Taking a grip of your hair one. Last. Time. And then tugging, just barely. Wanting to feel it. So I can remember it. So you remember it.

The time you got to catfight someone like me. The time I got to do the same with someone like you.

It is a moment I find beautiful, even as I continue to sob. My tears dripping from my cheeks to the carpet as I stand and then without a word, rush towards your door and back to the lobby.

My bodyguard asking me what happened, and though I look like a wreck, I say nothing. To him or my agent. To my boyfriend or anyone.

Though I keep your number by my phone. Always there, in case I find the courage.
The End

For More Sexy Chat Logs, Click Here!