About the Author
Hiya! I'm Kelli… also known as the Fyrecracka. I stumbled onto writing stories when my husband and I began playing around doing some role playing with each other (long story) on a completely unrelated website. We did some interactive stories about women and men wrestling. He would do the fight choreography and I would do the story.
As we wrote more and more of them, I began to enjoy the emotional exploration that I could do through writing about woman vs woman combat and competition (as well man vs man). I began to put myself into situations that would never happen in real life but were still pretty realistic. I found that there aren't many things as primal, emotionally raw or as innately intimate as one on one combat. Trying to capture that primal emotion and intimacy that I feel is, a nutshell, my goal.
As far my style of stories, as I said before, I like exploration. I will dabble in a little bit of everything as long as it's not mixed or overly violent. To me, the best battles are more about breaking the other woman's will rather than breaking her body. It's more about establishing dominance and a pecking order rather than belts and championships.
I almost exclusively use myself as the main character and write from a first person perspective, as the reason I write is to experience this stuff without living it. On the surface, I'm a pretty ordinary woman, your average small town Texas girl that moved to the city for school, got married and ended up in the suburbs with a family. Kind of an "every woman" and I think that helps me to seem somewhat relatable to a broad range of people.
As far as the action and stories are concerned, I try to explore it all- I want to know what is like being the hero, the villain, the winner, the loser- all of it. While I don't do commissioned work (not that I'm a good enough author to charge anyway) I will on occasion, work suggestions and requests into my stories quite often. So, feel free to chat me up and discuss ideas. Who knows where it will go?
Contact:
This author can be contacted on their FCF page, which can be found here!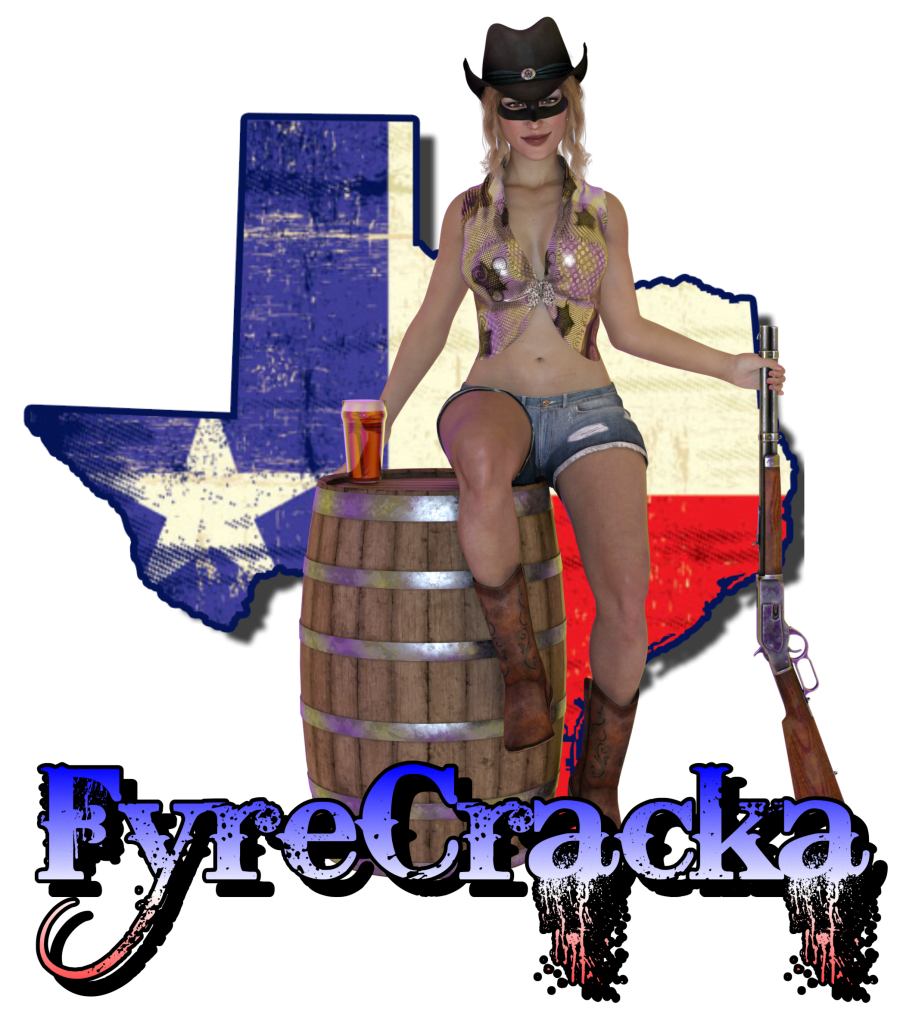 FyreCracka's Stories
Methodically, she traps my pinned arm underneath her shin. Next she focus on my other hand which had been trying, unsuccessfully, to wrench her hand from my chin. Without much ability to resist, I'm pinned beneath her, my head caught between the two thighs that had completely destroyed me moments ago as they now force me to look into the eyes of the woman who just conquered me.

Fyre's Fight Journal
We roll across the grass the sounds of our bodies slapping together and the groans we make as we strain against each other, are the only noises I hear as the world has gone silent to me as I focus on besting this formidable woman in front of me. For several minutes we both unsuccessfully try to gain control of the other woman.

Wanting to prove I can beat her at her own game, I pin her on her back and straddle her shaven pussy with mine. I begin to grind on her. She arches her back and begins moaning softly. I become increasingly excited as I feel victory almost in my grasp. I see a look of determination wash over the pretty young Asian girl's face and she starts grinding back. We both continue to grind rhythmically away at each other and I begin to feel my advantage slipping away as I feel waves of pleasure overtaking me.

Back on our side, Cassie and I have been trading pins and leg scissor holds pretty equally. It seems that we are definitely an even match as no one has been able to gain control of the other for more than a few seconds.  We are probably close to five minutes into this battle and neither one of of us has ever been in trouble- or in control. I can hear the punches and kicks land next to us and it's all I can do not to look over when I hear the grunts and yells as the two men seem to be ripping each other apart, but if I lose my focus I know, as evenly matched as Cassie and I are, that any lapse in focus and she will have me.

We slam into the wall hard, the impact surprises the taller woman and she releases the headlock before we both tumble onto the floor. For a brief moment both of us plot our next move. Then, simultaneously, we lunge at each other. We both grab handfuls of the other woman's hair. Between our grunts and groans I hear Beth exclaim "Now it's a catfight!"
We square off in front of each other. The contrasts between us are striking, I'm in my purple bikini. Standing 5'6″, I'm over a half foot taller than the 4'11" Lucia. At 140 pounds I estimate that I'm about 20 pounds heavier than her. She stands across from me in a baby blue bikini that is straining to contain her large D cup breasts, her dark hair and tan skin, quite different from my blonde hair, lighter colored skin and much smaller B cup breasts.

And with that, it's like an imaginary bell rang signaling the start of the fight. We circle each other silently, the gravity of what is about to transpire evident in both of our eyes. I inch closer and closer trying to get to where I can grab her and make this a wrestling match like I'm comfortable with. Trisha is the first to swing. The punch lands squarely on the left side of my jaw. Its almost like a flash of light when it lands and I it staggers me. I never thought about it before but it is the first time in my life that I've ever been punched. As the coppery tasting blood oozes into my mouth, I find it reassuring that it makes me more mad that it scares me.

I'm yanked to my feet by my hair. The lightning fast waif sends a flurry of of kicks to my thighs and abdomen. While they aren't devastating, the sheer number of them landing is taking its toll. I reach out, trying to grab Kelsey but she is so quick. She hops out of the way and lands a hard open handed slap right to my ass. The crowd roars its approval.