About the Author
A self-professed "boob-lover extraordinaire", Augur's stories focus on the titfighting aspect of erotic female combat. He first started crafting titfight fiction as tributes to Jon Grey's Best Friend's Sister (BFS), and he has since created his own series called Titfight Academy.
Augur's stories feature numerous alpha females that compete against each other for status, superiority and all-out dominance, using their most feminine chest assets – breasts. Sizes, shapes and consistencies vary from small and perky to huge and pendulous, with all having their own strengths and weaknesses. Most if not all of the contests are evenly matched and hard-fought, with plenty of back-and-forth action. Some of the females' rivalries are antagonistic, while others feature more of a mutually respectful, sportwomanlike competitive streak. A sexual element is nearly always present, as the fighters are ultimately seeking to establish their supremacy as the "better woman".
Augur's the descriptions tend to be highly detailed, and as an author, his writing style belongs firmly to the school of "more is more". Following Jon Grey's example, his stories are usually told from the perspective of a male, the boyfriend of a high-calibre titfighter, but many of the BFS Tributes feature first-person accounts of an actual contestant herself.
The Titfight Academy series is set in a private Scottish boarding school for students aged from 18 to 21, though the cast also includes many foreign reinforcements – as well as a few older women, whose endowments often prove much more formidable than their younger rivals would ever like to admit.
A regular contributor to Hostboard's Titfighting and Sexfighting forum and FreeCatfights, Augur also maintains an active presence on DeviantArt, where his pen-name is TitfightAugur. There, you may also find non-literary material on other forms of female erotic combat.
Contact:
This author can be contacted at his Deviant Art Page, which is found here.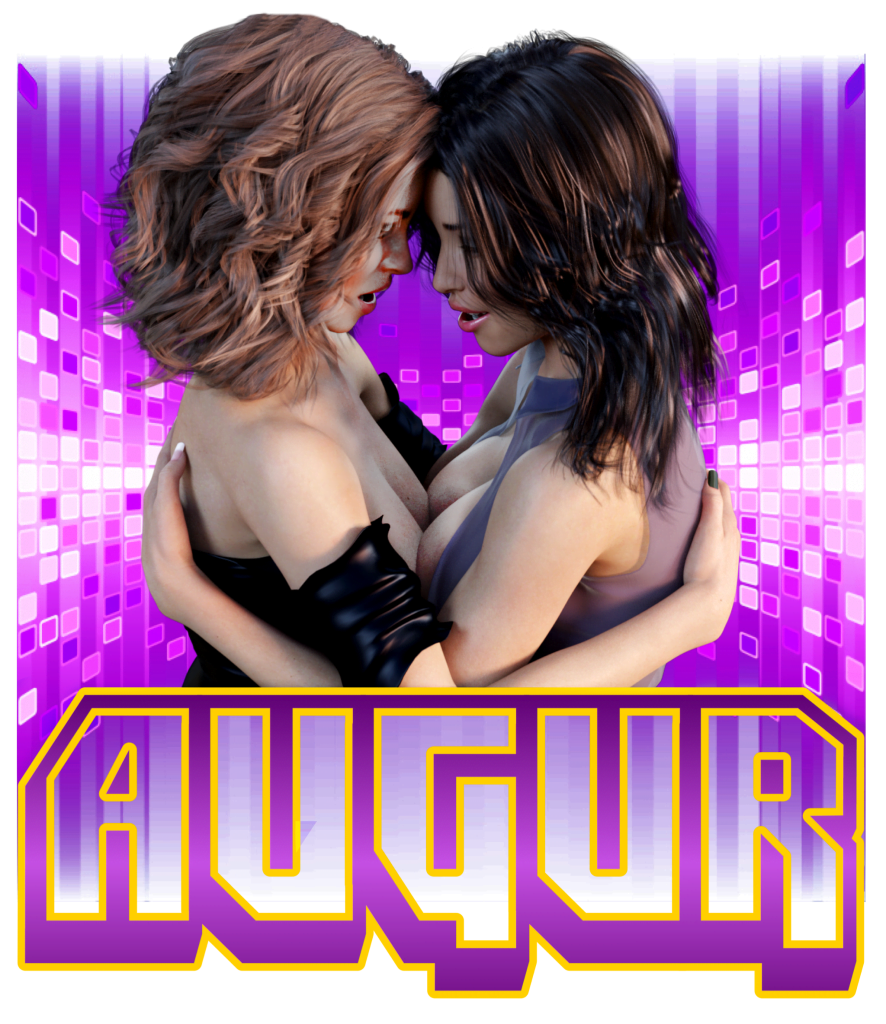 Augur's Stories
Titfight Academy
Susan dipped her hips and escaped the pressure, but also brought her big jugs up fast, slinging them so hard that they moved independently of her torso. Fleur, still caught in the momentum from her most recent strike, grunted as she felt Susan's diagonal uppercut land on the underside of her tits, pushing the flesh toward her face.

Hannah swung her larger mammaries, connecting with her right onto Padma's right tit. The brown-skinned girl's globe shifted slightly, and Padma winced. I wondered how well the Indian girl had recovered from the beating she took from Lavender, and recalled how brutal their boob-slapping edgame had been.

"Get those tiny things off me, you bitch," Katie snarled, struggling. It was easy to see that their match was at long last coming to an end. Katie's tits were pushed inward as the Asian tightened the grip, while Cho's were holding their shape better. The Asian hottie shoved her firm tits further into the space between the two young women, and Katie's tanned jugs obliged, bending, pushing inward and spilling out.

"Fuck. You." the redhead intoned, slowly and deliberately. I watched the skinnier girl unceremoniously pull her top up, freeing a pair of round, fairly dense-looking breasts which settled down on her chest with a slight bounce and jiggle. They were visibly smaller than Megan's thick D cup jugs, most likely a mid-range C if I had to guess, but had a very similar shape and appeared to sag only a hint. Natalie turned around slowly, smirking at the numerous lustful stares her rack received, and clearly enjoying the attention. All in all the girl had a pair of rather impressive tits, and it wasn't surprising that she'd be a bit vain about them.

The brunette's arms slid down to Mrs Bunton's elbows, and as the professor struggled to escape, Alicia attempted twice to get her hands together. At the same time, Mrs Bunton's full breasts billowed and rolled over and around Alicia's, and both women seemed to be feeling every little shift of the mass of breasts between them. The pain and discomfort were etched on women's faces, and each pair of breasts bounced and shook as they slid against the opposing pair.

My modelesque girlfriend stepped back as Yasmine swung again, and the dark-haired executive assistant swore as her tits whooshed past Fleur's, missing any contact. The blonde fighter took the opportunity to strike a blow of her own, a dipping undercut. Fleur's attack hit dead-on, and while her own breasts dented upon impact, Yasmine's tanned tits were shoved toward her face with the force of the blow. The dusky woman moaned and stepped back, barely dodging a second uppercut attempt. My girl's boobs flew up and flopped back against her chest. Rather painfully, judging from the look on her face, both on the screen and live right next to me.
All four sweaty breasts flattened and ballooned, each returning to their round shape. Lavender's breasts shifted more as Fleur dictated the movement, but both boobs slid and shifted as Fleur shoved her chest at Lavender's rack.

"Fuck you, black bitch," Megan replied, sounding just as winded as her opponent, if not more so. "I flattened your little groupie then, and I'll flatten you in a sec, too." The brunette shoved her torso to the left while her tits were still touching Angelina's, sending a shot into her opponent's big, solid breasts and causing them to shake and wobble just slightly. Megan winced as she felt Angelina push back, sending Megan's tits a bit further back before they separated and each pair regained its natural shape.

"Mmm, that's more like it. Take a good look at my big, powerful tits burying Susie's pillows, everyone," Pansy boasted, seeming to take immense pleasure in watching the younger girl's enormous jugs making way to her own "This bitch is about to learn what happens to fat little girls with illusions of grandeur."

The two fighters were once more locked into a bearhug, and both seemed perfectly happy to start thrashing their opponent's rack. The tips of Ginny's perky tits met Fleur's time and again as both alternated between grinding their tits together and then bashing them lightly. Each breast met the other and morphed in its own way. Ginny's normally immovable boobs seemed to shift more and more as they pushed against Fleur's dense orbs. Her right breast shifted up a few times as Fleur landed blows on the underside of her cute, compact titty, and I saw both girls look down more than once to gauge the other. Neither looked as confident as before.

Gabrielle yanked the door open, revealing a strikingly glamorous-looking redhead. I watched her step inside and embrace the blonde teen. The two girls were whispering something to each other excitedly, even leaning in for a kiss after a moment. This had to be the famous Becky. She certainly did have the body of a model – and not one of those stick-thin catwalk types, either. The redhead had a proper bikini babe -look about her, the girl's figure looking fit, curvy and full of promise. Her face was beautiful as well, though I'll confess I paid somewhat less attention to that area.

At the opposite end of the large room, and entirely unaware of the conversation that was taking place by the mat, a full-figured girl with bushy brown hair had just stepped into the gymnasium. Following on her heels were two other females: a lean, visibly toned redhead and an equally thin but far less ripped blonde. Their tastes in fashion seemed just as diverse, the brunette having chosen a pair of grey jeans and a purple wool sweater while the athletically-inclined redhead wore black leggings and a tank top, and the light-haired girl completed the set with a bright yellow lolita dress and a matching pair of fluffy ears. Yes. Fluffy ears.

A Tribute to Best Friend's Sister Series
This BFS Tribute -series is my own take on Jon Grey's amazing universe.

Events below take place sometime after Best Friend's Sister: Kara's Struggles, Chapter 17 (By Goliadmike)
I tried launching my boobs at her from my right side to my left, but she was ready and turned her left shoulder to her left causing my boobs to smack into her upper rib cage. I winced as my jugs bounced off her rib cage and back into each other. I heard a Nikki yell as my tits made a loud smacking sound, and pulled back for another strike, but the same thing happened.

Suddenly, Chrissy wrapped her arms around Tiffany's back and squeezed, reminding everyone of her obvious strength. Tiffany groaned as she felt the blonde apply the pressure on her firm tits, but replied in kind, wrapping her own arms around Chrissy's back. Soon both women were groaning as their tits shifted, shook, and molded around one another. The grinding was becoming rather aggressive, I noted, but so to was their grip on each others arms. Neither could move with the same fluid motions anymore.

Chrissy, for her part, was amazed to find that even as she ground forward, Cassie's boobs did not bend to hers like most girls' did. She'd crushed several racks just by ramming them with her massive pair, ending the contest before it'd even really had time to pick up. But clearly, Cassie's firm breasts weren't going to surrender quite as easily. While the blonde didn't really doubt her set's ultimate victory, she had to admit that these hard tits were proving to be serious competition. Nikki had warned her that the redhead would be a tough nut to crack, and Chrissy was quickly starting to understand why.

Sydney grinned at my flushed face, laughing. "I bet your boyfriend would love to see my gorgeous boobs crush your set". My girl just shook her head, sighing dramatically. "Nah, I'm pretty sure Dan would like sliding his cock between those floppy udders even more. Which is lucky for him, 'cause that's exactly what'll happen once I flatten you."

"Seriously Chrissy, Nikki's boobs aren't that much softer than ours," she intervened, feeling a bit bad for the redhead. "They're big, and firmer than most. It's hardly her fault we have such epic racks," she finished, smirking coyly at the blonde, and causing all three to chuckle again. "See what I mean, Chrissy?" Nikki whined in a mock groan, "A couple of wins and she'd already getting intolerable." Chrissy's response was an exaggerated shrug. "Oh, I don't know… she does have a point about my rack…"

Chrissy's face broke into a wide grin as she took in the change in Amanda's eyes. "Atta girl, I knew you couldn't resist," she cooed, making her opponent's face harden further. "But don't think beating these jugs is going to be easy, they've flattened several girls in a row before."
"Shut it and line 'em up, bitch," Amanda shot back, sneering at the blonde's boasting as she pulled off her lace bra, flinging it to the side.
Chrissy drank in the girl's best assets with a hungry look on her pretty face, licking her lips as she watched Amanda's full, tanned pair quiver and undulate gently. While they probably sat just a hint lower, their round shape was quite similar to her own, much bigger breasts. The way Amanda's set bounced and jiggled suggested that they weren't as dense, but there was no denying that they looked absolutely delectable.
Nikki motioned us forward, and Emma took a large step, pushing her tits into mine. We were about the same height, and since my jugs were so much heavier than Emma's, her dense boobs rested slightly higher than mine, though not by much. Her tips bore pretty much straight into my set, and I matched her thrust, pushing back. Emma's tits poked into me as my jugs engulfed hers, and I took some satisfaction in watching my opponent wince a bit as she got a feel of my pair's considerable weight.

Encouraged by her reaction, Gina slammed the full weight of her firm boobs forward, shoving her tits straight into Kara's boobs. The hooter girl's tits seemed to splay out again, and she gasped as Gina's tits seemed to simply burrow into the soft flesh of Kara's udders, invading its space and pushing the looser tits away. Gina slammed forward even further, pushing her globes even deeper into Kara's boobs. The blonde left her tits there for a moment, and I took a mental snapshot of Gina's impressive tits displacing the brunette's massive teats. Gina pulled away, and Kara's boobs quivered on her chest.

Nikki pulled her own top off quickly, and while it wasn't the show that the larger-breasted girl had offered, it still had Sophie's undivided attention. They didn't sit quite as high as Chrissy's, but were close enough in both shape and firmness. At least now, after the blonde's grueling fight against Cassie's incredibly dense set. Before that, the brunette thought, Chrissy's huge orbs had looked even harder.

The thrust sent her left breast into Jacqueline's left tit, and in mid-stroke, the black girl's right breast crashed into her left. Jacqueline grunted as she felt her own breast slam into her other jug, while Sophie's boob was hitting it dead on. The young brunette swung from her wide hips, and I nearly applauded as she increased the effectiveness of her stroke.

"There you go, big Z. Your saggy boobs may be larger than mine, but they're n…"
The blonde's words were cut off as Zoe growled in anger and lunged forward, managing to land a crushing blow on top of the blonde's smaller tits. It happened fast enough that both women stumbled, but Zoe was able to hold on to Ella, stabilizing both her opponent and herself. The blonde thrust forward as soon as both women were steady, but Zoe's hands on her shoulders slowed the attack, and Ella's flesh grazed against the larger-chested girl. Zoe, realizing she had an opportunity, thrust forward as hard as she could. It was Ella's turn to groan as she felt the dense tits of her opponent envelop her smaller pair. I noticed that Zoe winced as well, but her arms immediately went around the waist of her foe.

"Get your fucking hands off me, Marcus!" the redhead screeched, doing her best to grab a hold of the older woman's ponytail while her boyfriend tried to keep them both at an arm's length. "I'm going to beat the shit out of this granny, and feed her big, saggy udders to her!"
"Hah, I'd like to see you try, bitch," Patricia spat in reply, laughing in the younger woman's face. "Your weak little tits are nothing compared to mine, I'd crush those soft sacks in a heartbeat."
"Fuck you, skank!" the redhead growled, backing off a few steps and starting to pull at the hem of her shirt. "You're on. My firm boobs are gonna wipe those ugly fat things right off your chest. Marcus won't even look at you twice once I'm done with them," she hissed, flinging the tight top away and reaching behind her back to unclasp her white cotton bra
More Coming Parts of this Series Are Soon!