A Special Thanks to FCF's Natalia War Kitten for Helping Me Come Up with the Tangler App Idea.

Credit to Catgirl Anna who helped me alot with this story!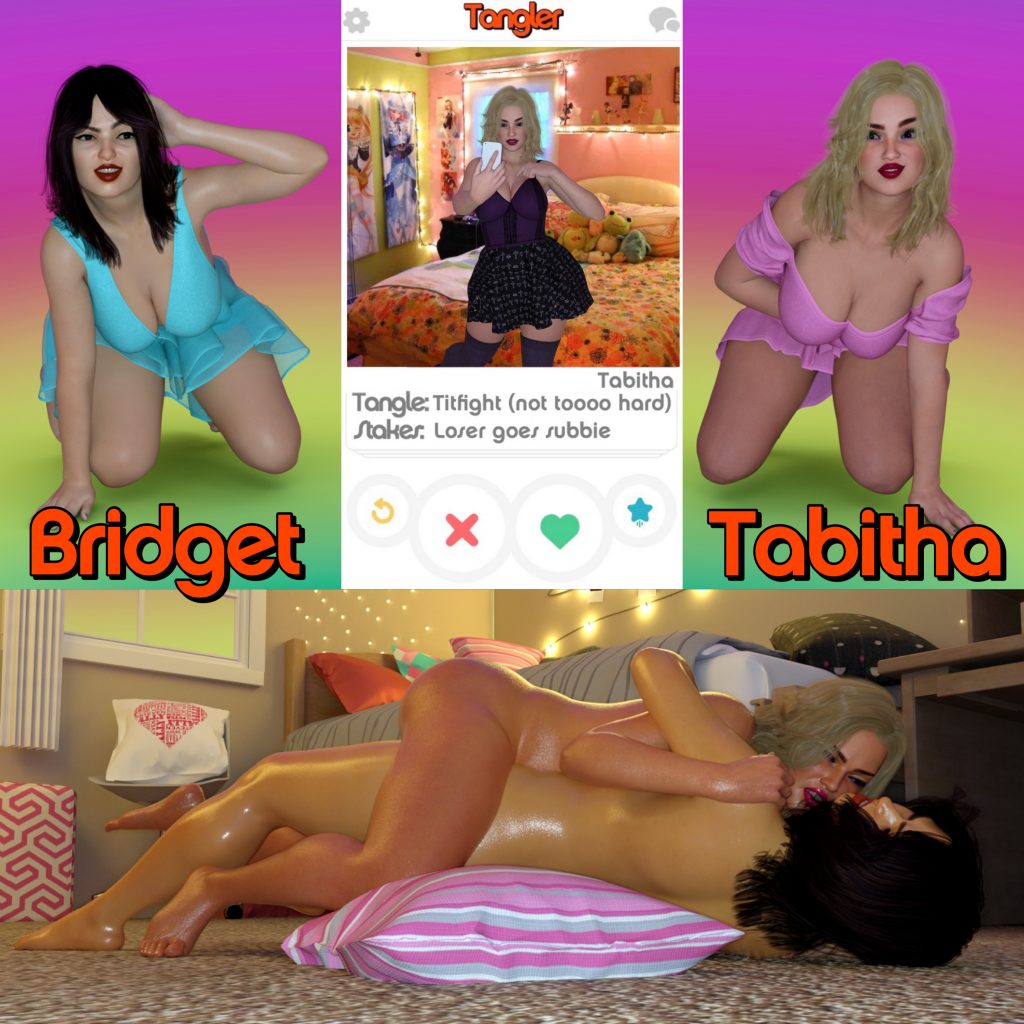 Titfight/Sexfight: With the launch of the hot new Tangler app, two young women get to live out their fantasies. Not online but for real. Each excitedly putting their breasts to the test in a war of attrition waged with one of their mothers nearby.

Coming Soonish:
Tangler Tales: Vanessa vs. Chloe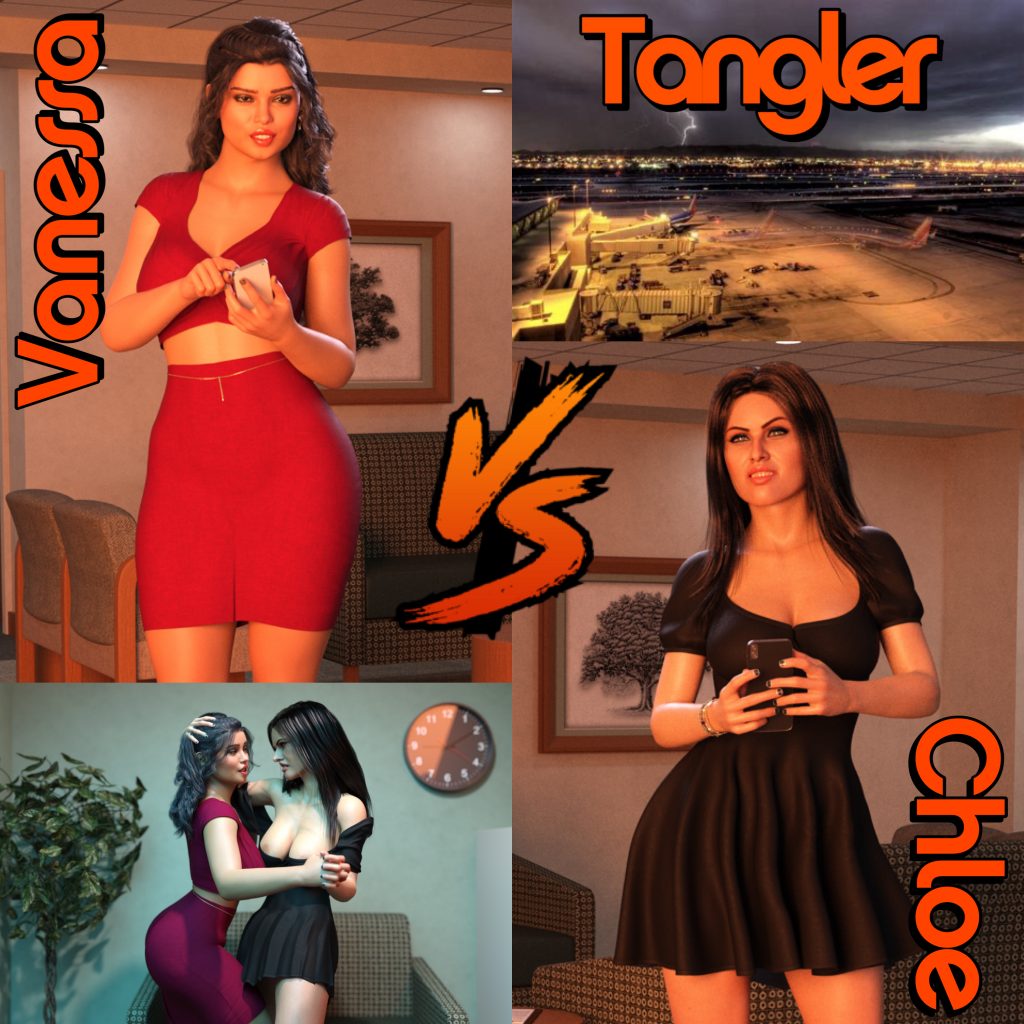 Style: Sexfight/Catfight
Description: When a new feature is added to the female fight community's hottest app, two women of different tastes and tussles come together and try to prove to the other, which is the best way for women to fight.
The Idea: So, when I was making my Rival's Girl piece of art, seen/scene below:
It made me fall back in love with several of the models pictured, and my mind immediately went to work on how to use them in future stories. Then, almost immediately, this story idea popped in my head.
Separately, I wanted to establish what the Tangler app can do, especially since I've already spoken to several writers who want to use the concept to write their own stories.
One of the features I want the app to have is a proximity feature, though with a twist. Something that tells the women using it that there is another Tangler user nearby, and then lets them connect. No offer which is then selected and agreed to, just, hey another girl is nearby who is interested in female fighting. Contact them?
Then, I am going to use the haste of both girls to hit yes, to put them into a scenario in which each thinks the other wants the style of fighting they had in the past. Chloe thinking they will have a catfight (like she did in Peace Talks), and Vanessa that they will have a sexfight (like she had in Wrong Number).
That idea, especially when you're dealing with desire and donned hate, rather than actual loathing, will allow for some fun discussion and foreplay that I look forward to writing.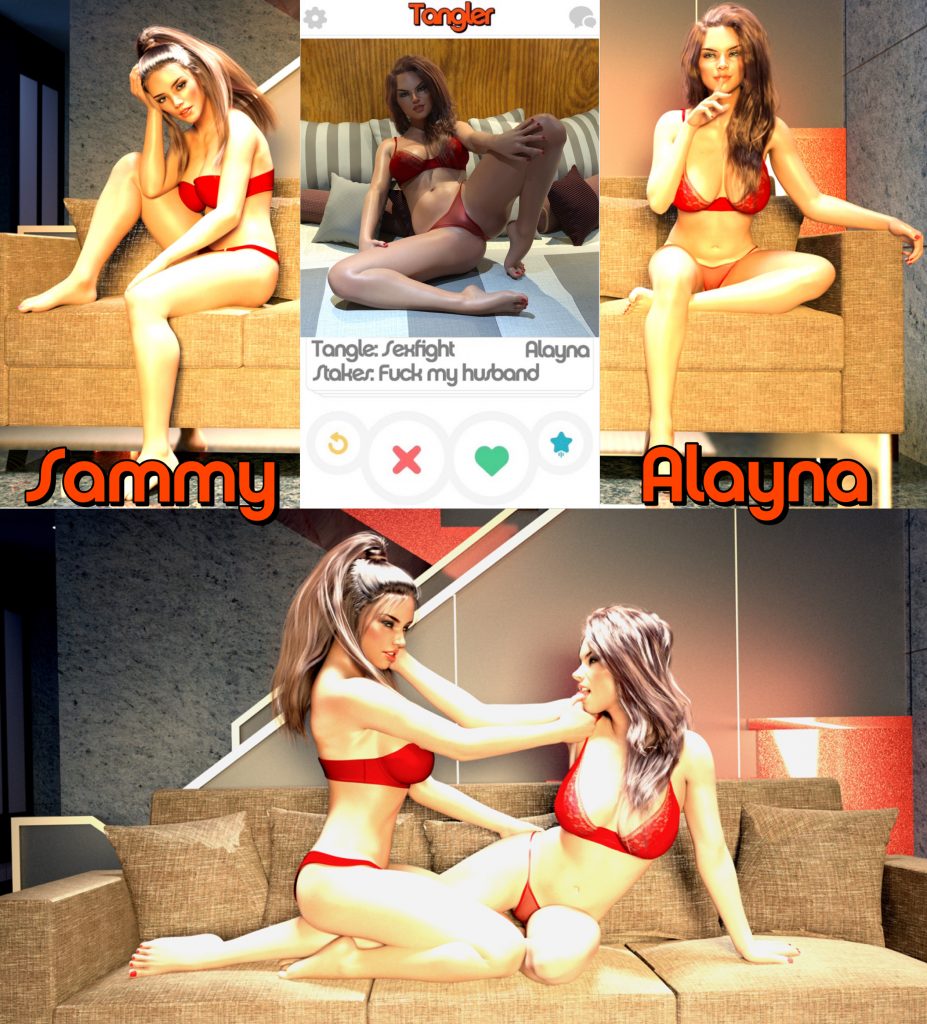 Sexfight: Two defeats at the hands and sex of her rival Brenda, Samantha or "Sammy" decides to install the dirty looking app climbing the app store charts. One that helps her find Alayna and her offer. One Sammy accepts, though she has no idea what lays behind her new rival's door.

Coming Soonish:
Tangler Tales: Aura vs. Eun
Style: Racial Catfight
Description: It's as easy as swiping left, and saying yes on Tangler. A mobile app where can find your perfect fantasy fight, preferred stakes, and next rival. What are you waiting for?

When the enjoyment of racial hatred and shared violence are too taboo, Aura and Eun turn to a new mobile app to find satisfaction. Not in a glass of wine, a plate of crackers, and a wedge of cheese, but by latching their claws into each other's skins and wrapping their legs around each others bodies so they might squeeze. Will you join them?
The Idea: This is another Sprite tale! One with heavy racial overtones, without any of the runway I usually need to make that work safely.
And really safety is what makes this tale palatable to me. Racial hate is a cause of conflict that does not excite me more than others. Also, though it does build passion quickly, I normally see it as a crutch — as it's almost too easy. Further, I am just bad at writing racial tales, as I am just so far removed from that mindset, and have to basically look up guides on racial slurs and reasons why one ethnicity might hate another, just to come up with a baseline to work from.
That being said, Tangler lets me take the the sting out of a racial story, as both of the girls — the targets of the racism, want it. It's their fetish. So just as the hate in Bridget vs. Tabitha and Alayna vs. Sammy is donned, so is the racism in this story, and others like it Sprite might push me to write lol.

Want Something Else? Keep Reading!