About the Author
Hello to all in the female fight world! My name is Heidi Kendrick. I was introduced to the fine and primal art of women fighting each other at the young age of 18. Now in my mid-forties, I have found that writing down my memories in a sexy story format is lots of fun. I have learned a lot about writing stories from, in my humble opinion, some of the great writers, like Sidekick, Anna the Marine Chick, Catwriter; just to name a few.
Lately my taboo kink of family fighting has taken me in a new direction. It is not the one family vs another family fights that really get me going; it is primal struggle between mothers and daughters, or grandmothers and granddaughters that fuels my passion. Lusty battles where nothing is off limits. To some this is a turn off, but I am not writing for the masses, I am writing for me and what turns me on.
Hope you enjoy my stories and any feedback is greatly appreciated. Thanks you!
Love and big titty bouncing during hot naked catfights,
Heidi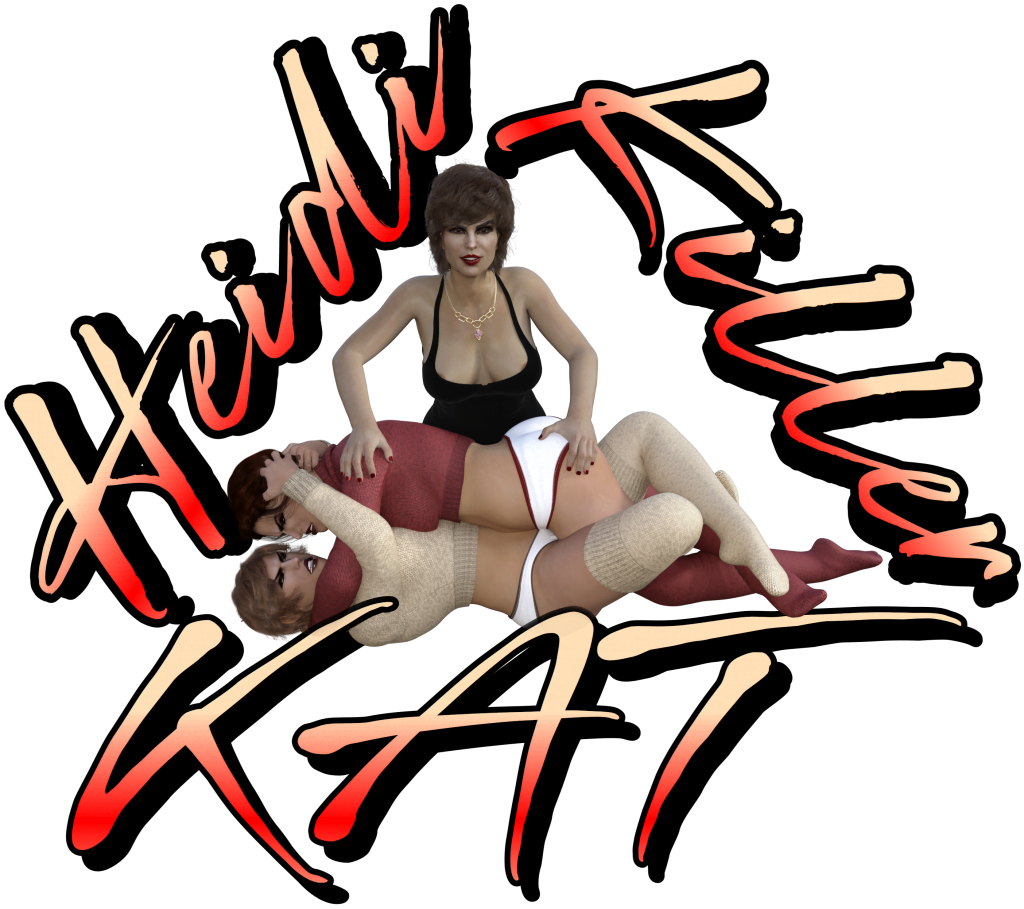 HeidiKillerKat's Stories
She and I rocked back and forth on the table, fingers causing out big girls into grotesque shapes. I opened my eyes to see Tracy crying, scratch marks adorning her chest as I knew they would be on mine. Then the table started to tip and we went head first down to the linoleum floor, wedged in between the tipped over table and the wall. I kicked her hard and she let go of my tits and slide back on her butt. This time both of us were slow to rise.

This is a fictional story. It is a what if Heidi and Margaret Kendrick (me and my mom) met Anna and Joyce Chambers (Anna the Marine Chick and her mom). I got permission to write it from Anna and I hope she loves it.
We released each other's back and leaned back letting our wet hungry pussies slap together. SLAP SLAP SLAP SLAP! Each time our cries echoed in the bedroom. We slammed our cunts together again, the orgasm building in me. I could see Emily flush and then her hips started to gyrate more, harder.

Her First Series
The two mature women came together with a grunt and smack of skin! Hands went to each other's hair, Margaret grabbing blonde tresses and Gloria pulling my mother's curls at the top of her head. They let out little yelps of pain as they turned and turned around the small living room. Feet started kicking at shins and I heard words like bitch, slut, whore and cunt come from the women's mouths.

She balled up a fist and punched me in the belly, my hands loosened in her hair and she tried to escape the shower. She slipped on the linoleum but scrambled out to the bedroom on her hands and knees. My robe was soaked and open and my breasts bounced as I scrambled to get at her. I got me feet under me and made to carpet and lunged as she turned around to see where I was. I slammed into her naked body and we hit the chair and our combined body weight caused to the flip over taking us to the floor. We were side by side, punching and slapping and grabbing at hair and she grabbing at my robe. Our legs were kicking at shins.

Margaret and Bobbi Sue fought down to the grass, grabbing tits, kneeing each other between the legs. Bobbi slammed my mother's head into the ground stunning her. She mounted Margaret and grabbed both tits and started twisting. My mother howled in agony!!! But Margaret knows how to fight dirty! She reached between Bobbi Sue's legs and started clawing at her pussy!!!
Our tits mashed together and pushed out to our sides. Our hands reached around our backs and grabbed hair to pull and yank. Like busty sumo wrestlers, we pressed tightly together as we pulled hair. If I pulled to her right we went right, then she would pull to the left and we went left. She and I collided feet and went down to the ground again.

We slammed together in the grass in front of her trailer, hands going for hair. My hair was down to my shoulders, dark red in color and hers was short and teased up with too much hairspray. Hands grabbed at hair and we twirled around the front yard screaming obscenities at each other. We pulled and yanked at hair, turning around and around. We bent each other do the waist, cursing and grunting. I lost my shoes in the struggle and was bare foot like her. She let go of my hair with one hand and started throwing punches to my body and slaps to my neck and face. I returned the punches, burying a hard right hand into her left tit.


My Wicked Family
Roni slapped her daughter across the face. The younger woman held her left cheek and returned the slap to her mother. That is all it had took; mother and daughter reached and grabbed two handfuls of auburn hair and yanked mightily. Heads were snapped left and right, back and forth as the pair stumbled around the sparse living room. Grandma Mary pulled up a chair and took a drink from her Hot Totty and watched her daughter and granddaughter fight.

Each woman squeezed and groped as they each moaned and grunted in exertion. Each opened their legs to the other and started to grind wet cunts together. I don't know if Roni allowed it but Alexa stayed on top of my grandma until both started to writhe and buck as a mutual orgasm was shared. Their screams caused Andrea and Ito fight harder.
I took the joint and puffed away as Roni started to strip out of her t-shirt and shorts, bra and panties. Margaret paced back and forth waiting for her mother to get naked. Roni dropped her panties and my mom and grandma came together in a slap of skin as hands found hair.

howled in pain and started slapping the sides of her head. She let go and pushed me back and my breasts fell out of my swimsuit. I rubbed my tender tit and she got up and out of the tub, always keeping her eyes on me. She got a few feet into the brass of the backyard and stripped off her suit, revealing a very sexy, wet nude body. I climbed out after her and pulled my suit completely off and rushed at her as she did at me. Our naked bodies met in a splat of wet skin on skin and we tangled legs and went down to the grass.