About the Author
I like to write catfight stories because there's nothing sexier than two women going at it. Hair pulling, Clothes ripping, Breast groping, Pussy Kicking these are what make a great catfight.

I like to write stories including characters from popular culture like video games anime and comics so if you want to see waifus getting into a catty fight then this is the right page for you.

This is all fantasy to me and does not affect in any way how I interact or regard real women. And I do not intend to spread harmful messages through my work.

And all characters belong to their rightful owners except for the ones I make up who belong to me
I hope you enjoy my stories and I'm always anxious to hear feedback and ways to improve.
Contact:
This author can be contacted at his DeviantArt page or on FCF.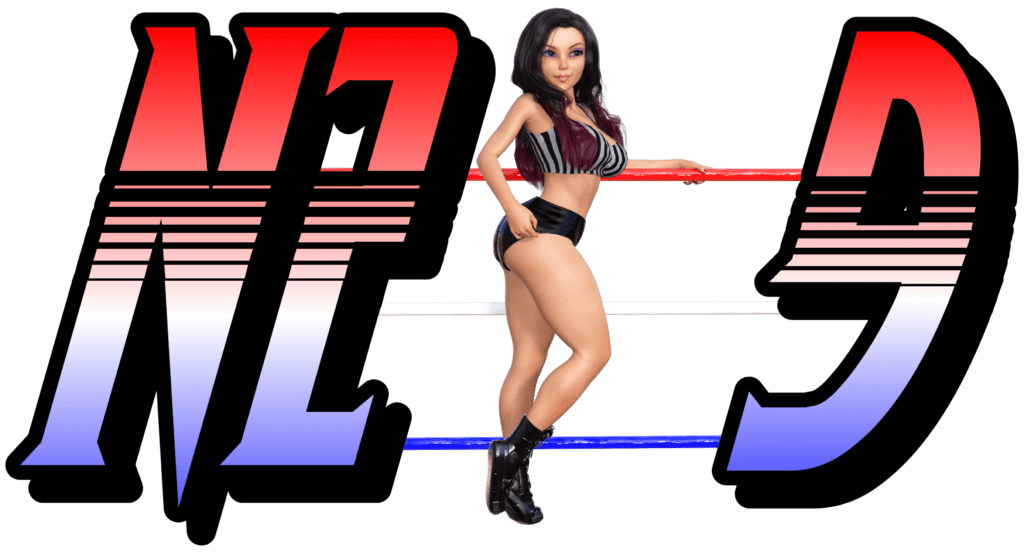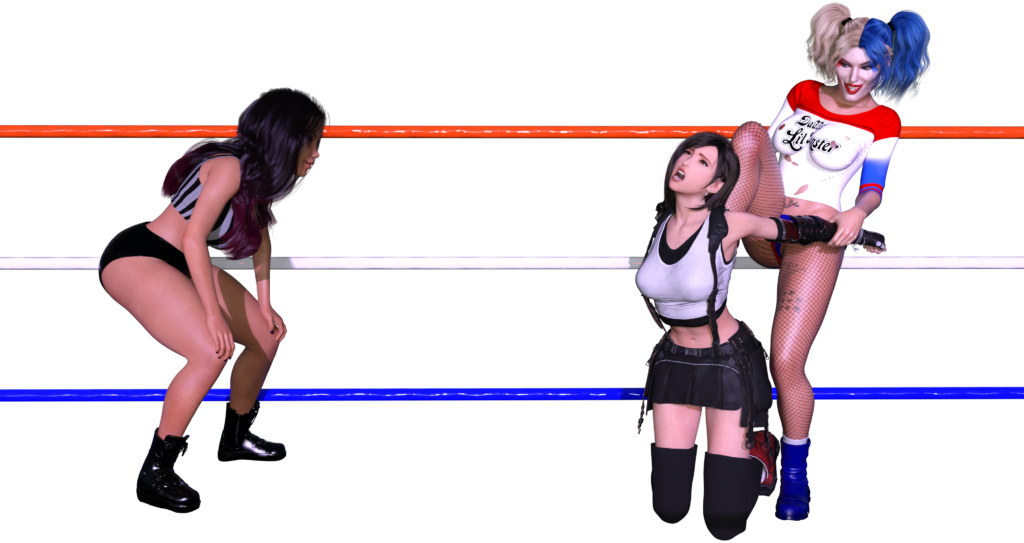 N2-9's Stories
"I think that's quite enough of that" Bayonetta said. She kicked Samus in the stomach causing her to gasp as all the air was knocked out of her. Bayonetta pushed with her foot causing Samus to fall over backwards. Bayonetta got to her feet and examined the damage to her outfit. Samus had ripped a large hole in the front of it from which her tits hung out of. Samus also got to her feet and watched Bayonetta warily expecting a swift retaliation but Bayonetta just smiled at her. "Are we enjoying the view?" she said she gave her hips a sexy wiggle causing her large breasts to jiggle back and forth.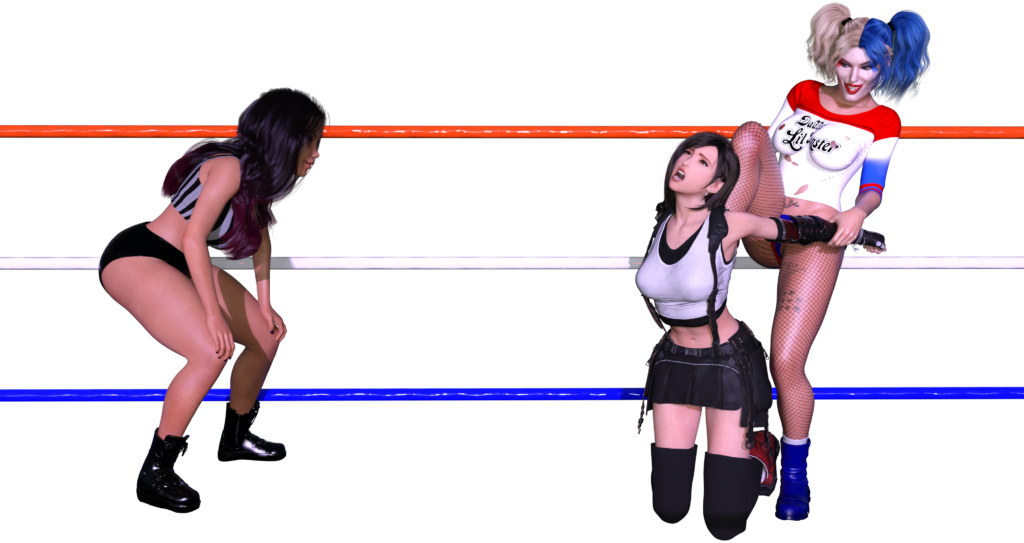 As the top of Palutena's dress was torn away her large naked breasts spilled out into the open. Palutena squealed at the humiliation but there was nothing she could do about it. "What's the matter I thought a slut like you would be used to flashing her tits," Rosalina said.
"Fuck you!" Palutena shouted back.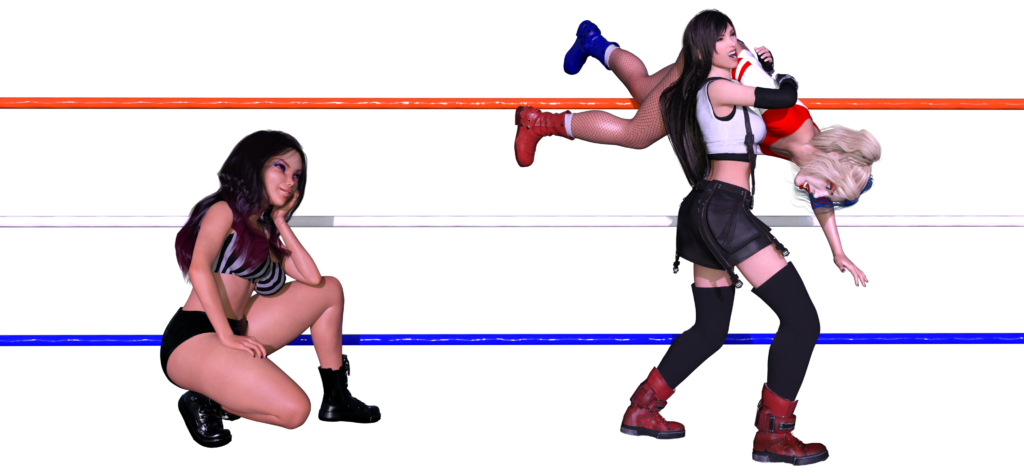 Meanwhile back in the ring, the match continued. Dixie and Aisha were still catballing around the ring clawing at each other and pulling each other's hair. They rolled over to Reiko who had to dodge out of the way of them. When they next rolled in the way of Anaesthesia she gave a wicked smile and savagely kicked them both to send them rolling off in the other direction. Finally, the two furious women separated however just before they did Dixie managed to snatch Aisha's bikini top and take it with her. Aisha's large tanned tits spilled out.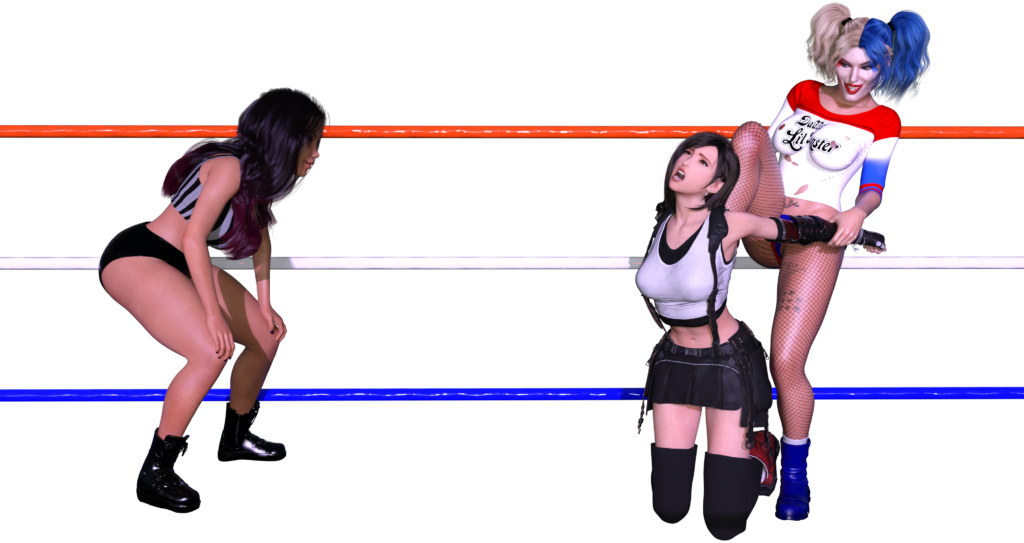 The cheering seemed to reinvigorate Peach and Pauline and they started going at each other with renewed energy. Peach pulled on Pauline's hair causing her to shriek in pain and be bent double. From this position, Pauline moved forward head-butting Peach in the stomach. Peach let out a wet grunt as the wind was knocked out of her she lost her balance and staggered backwards. Pauline straightened back up grabbed the top of Peach's dress and in one fluid movement ripped it off her. This got a loud cheer from her supporters in the crowd. "Oh look your bra and panties do match" Pauline taunted. Peach flushed red at her humiliation of being stripped down to her underwear in front of an audience.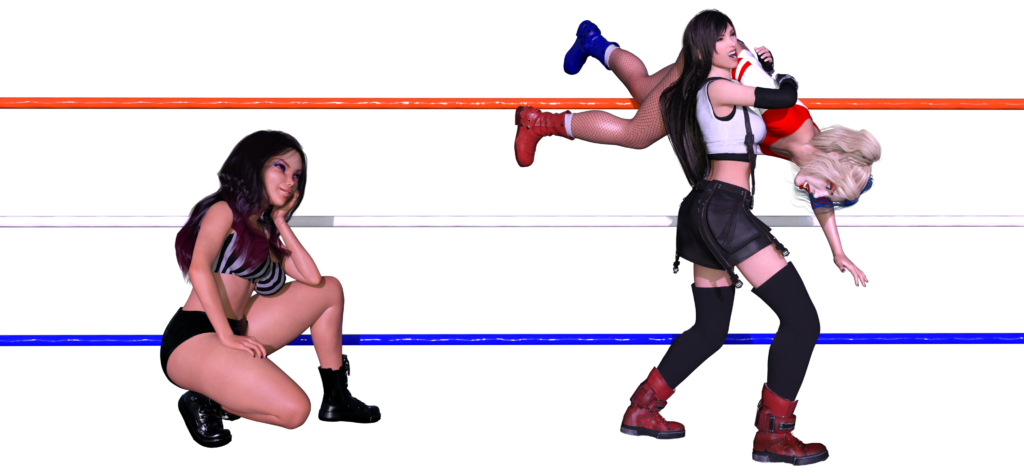 Olivia kicked her in her back sending her down to the ground she transferred her hold from her hair to her arms placed her knee at the small of Korrina's back and began to pull. Korrina screamed as she was subjected to this painful submission hold.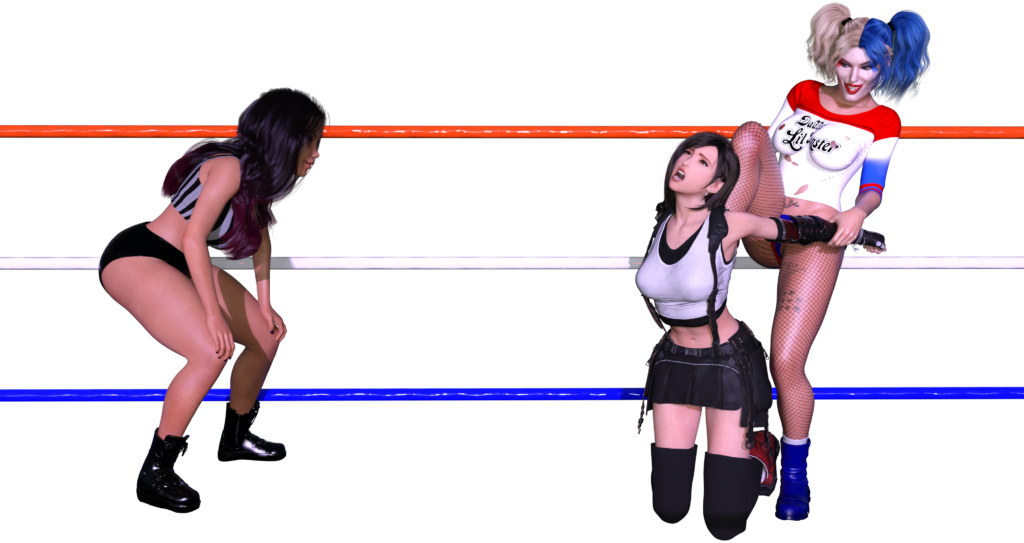 "No way this is mine, I won't let you break it as well" Mercy replied. The two furious women began to wrestle over control of the staff. They stumbled around the lab squealing and grunting with the effort of trying to pull the staff out of the other's grip. Moira slammed Mercy into one of the walls causing the Swiss doctor to gasp but she still held tight to the staff which was trapped in between there heaving breasts. "let go you crazy bitch" Mercy said through gritted teeth.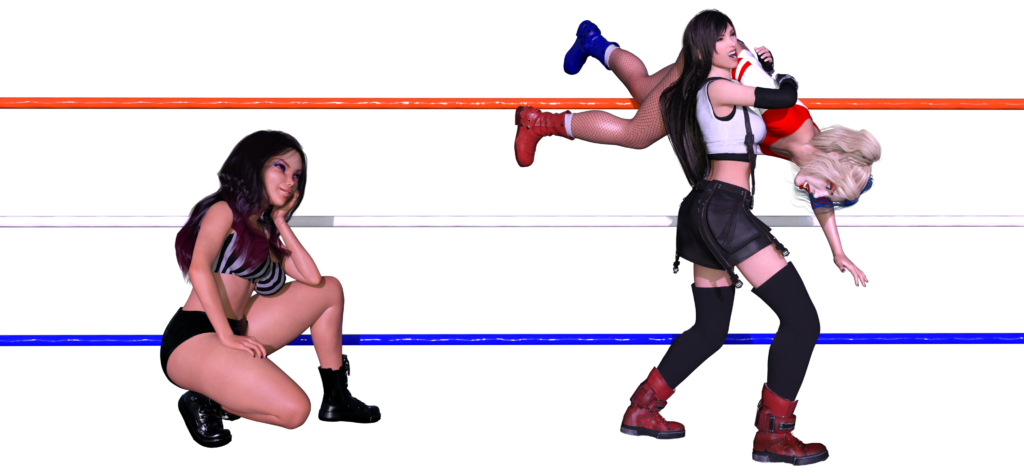 Suddenly Erza lunged forward with a punch. Quickly Mirajane sidestepped and Erza flew past her. As she passed Mirajane grabbed some of her scarlet hair and pulled. Erza squealed as her head was wrenched backwards. Mirajane grabbed another handful of Erza's hair and began to drag her around the ring. Erza bent double had no choice but to follow all risk her hair being pulled out of her head. Mirajane smiled enjoying the humiliating position she had forced Erza into. She tugged hard on her hair and then turned her back on her to start waving and blowing kisses to the crowd. "Do you like my new pet, I've got a lead for her and everything" she shouted.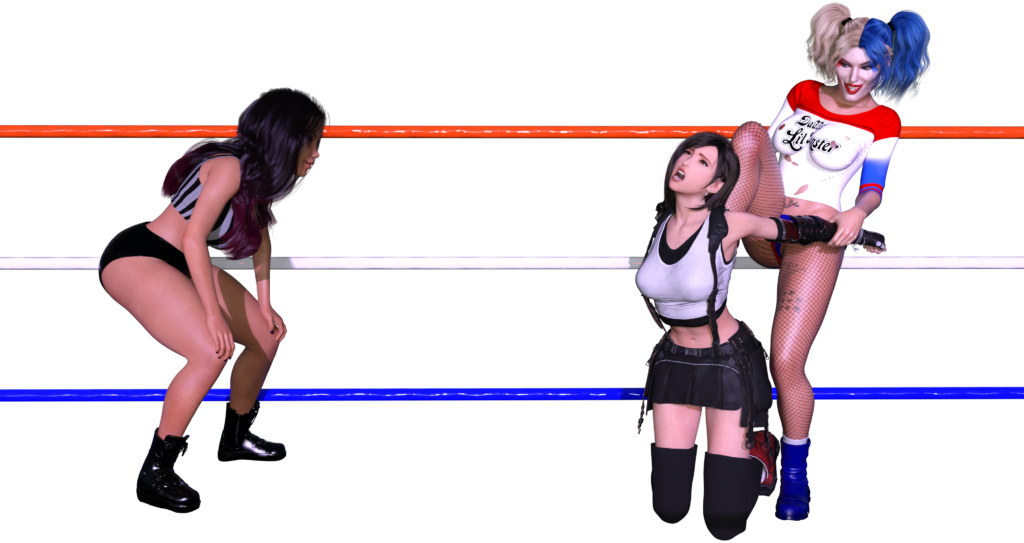 Yang grabbed Camilla's top and ripped it off. Camilla's gigantic tits were now laid bare for the whole arena to see. "Here, a present for you," Yang said and through the bikini top to Ref. Smiling Ref caught it and held it up to inspect. One of the cups was almost the same size as her head. "Not so high and mighty now, are you skank?" Yang said she raised a fist ready to resume the assault on Camilla's now naked tits, but the small rest bite Camilla had as Yang stripped her was enough for her to get some fight back in her. She reached her hand up and raked her nails down Yang's cheek leaving a trail of red scratches. Yang squealed and recoiled then Camilla flung her own punch into her face which sent the blonde stumbling off her.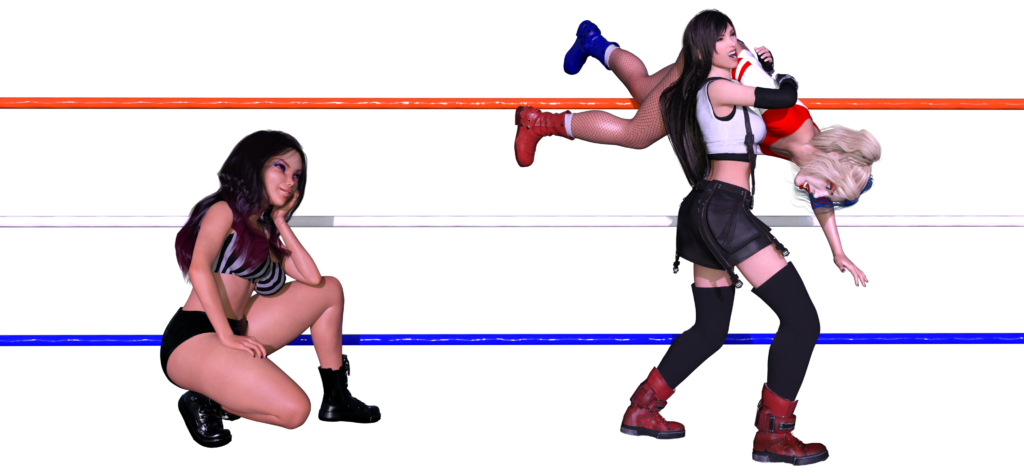 All three women stopped stretching and then stared at each other their hands raised waiting for one of them to make the first move. Tasha caught Deanna's eye and subtly nodded her head towards Seven, Deanna nodded back and suddenly they both sprinted at the taller woman.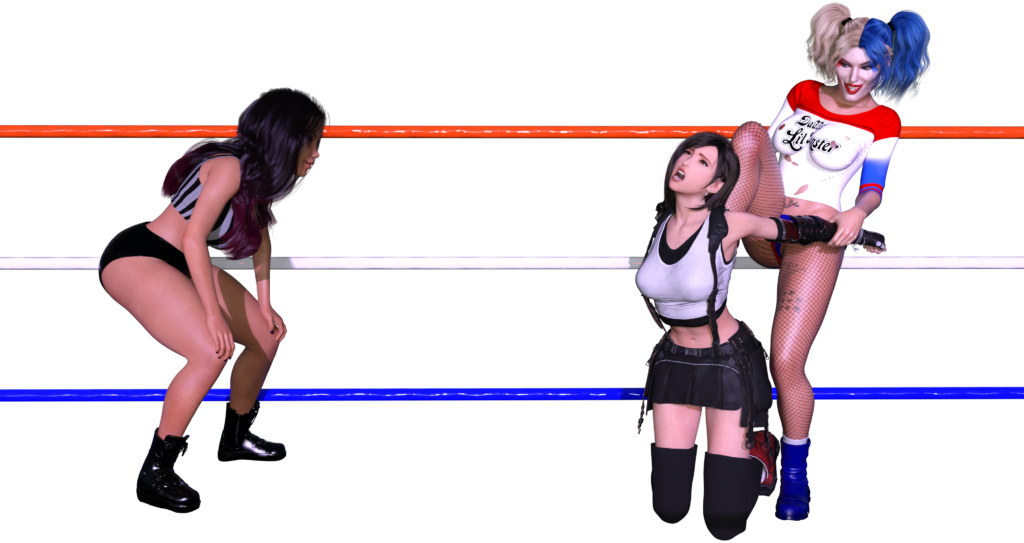 "Why you little slut" Midnight growled and made a move towards Mt lady but before she could get in striking distance Mt lady activated her quirk and began to grow. Midnight took a step backwards as Mt lady reached her full-size. She needed to duck her head a little bit in order to not bump her head off the ceiling but she was able to grow to full size in the room.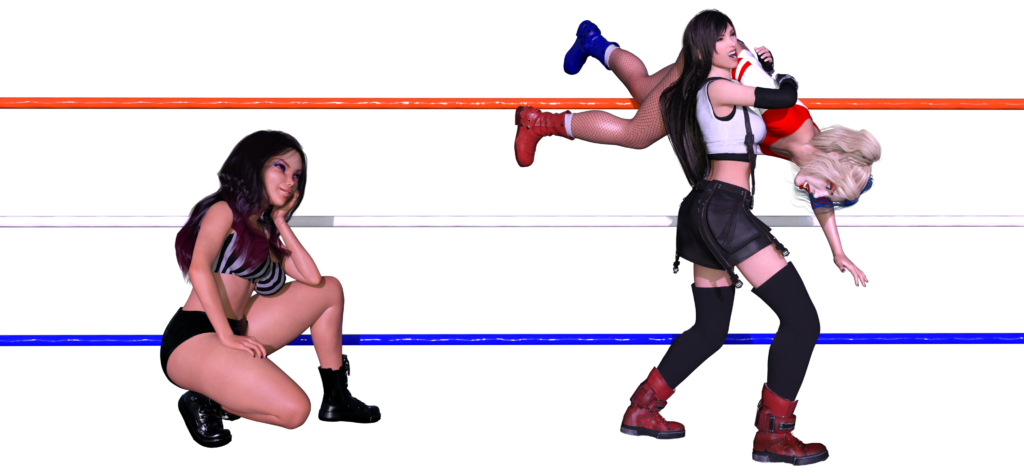 They had both taken their first hits in the fight two heavy blows to the face. Bruises were already beginning to form on their cheeks but both Rogue and Carol knew this was only the beginning of their clash.