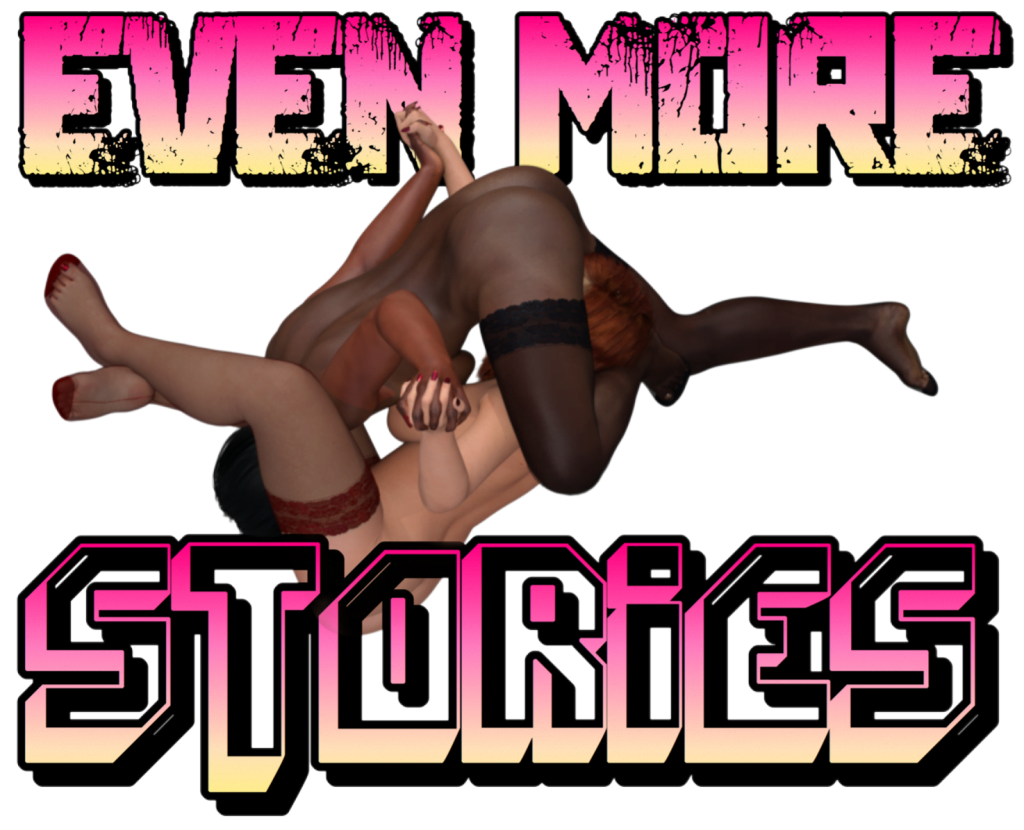 Not every author has a vast catalog of stories. And not everyone wants to share their entire library in full, here on Fights.Sexy , even if they have one!
And so this page will be the home of those smaller sets of submissions. Enjoy!
Have a Story to Submit Contact me at rivals.rapture@gmail.com

This is an epic sorcery and sword adventure saga set in the 5th century set in the land of Eurasia an amalgamation of 18 continents
The themes here are sorcery, intrigue, spy craft, heterosexual & lesbian sex, epic lesbian and heterosexual sexfights. This part of the saga takes place in the region of Eurasia which covers the kingdoms of Norwegia, Germania, Alexsia, Indica, Nippon, Zhang, Hangul, Northumbria.
Author's Introduction: This was inspired by my viewing of Tina Louise's first movie, "God's Little Acre." Tina plays an overheated farm wife driving her frustrated husband and every farmhand on the property crazy by teasing them mercilessly, walking around the farm serving cool drinks in her slip and showing off the most magnificent cleavage known to man. There's a great scene where she goes outside her farmhouse at night to cool off her heaving bosom with some cool well water and I thought the only thing missing here is another woman…

A Trilogy by Peaslee
'You wretch!' she shouted, pushing forward, forcing Lady Withersby to took a step back, then quickly attacking once more. It was a strange dance the one the two ladies were engaged in: their bodies approaching and withdrawing and moving in circles as their skirts swirled around them, accompanied by moans, grunts and the unrhythmical clanging of steel on steel; a gracious ballet, beautiful in its choreography but ferocious in its execution. Back and forth the two went fighting, attacking and retreating, defending and pushing forward. And yet, neither woman could ultimately gain a real advantage or find an effective opportunity to strike the winning blow.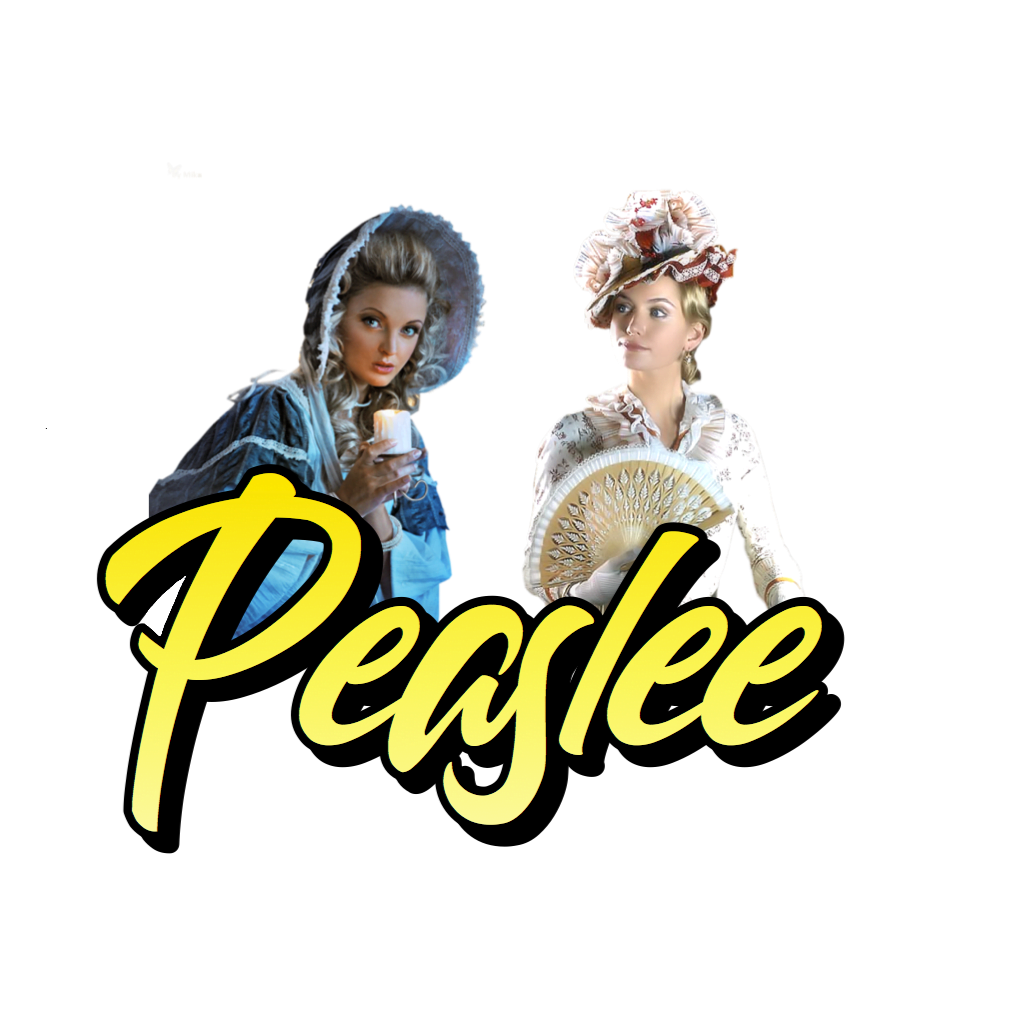 And in the confusion, one of Cynthia's hands ended up on one of Rachel's tits. Immediately knowing what to do, she brought the other on her enemy's chest as well and her fingers dug into the warm, sweaty flesh, eliciting a long, high-pitched scream from the redhead. But with both her hands busy, she could not stop Rachel from retorting in the same way, and her screams of pain joined those of her rival as each concentrated her efforts on burying her fingers even deeper into the adversary's breasts.

'Wretched hussy!' shouted Amelia, flinging a slap just as Catherine pulled her close. Any tactic either may have planned to use, was quickly discarded and forgotten as the two found themselves embraced in an awkward grapple. Skirts flapped and whipped while heeled feet frantically tried to plant themselves on the carpet, searching for stability. Lady Hartwood felt the body of the brunette pressed against hers and her hands instantly went for the hair, fastening on the back of Catherine's head and puling downwards. Lady Engelton grunted an insult but did not answer in kind; instead, she clung on Amelia's torso and, clutching tight, tried to bend her foe and make her lose balance. Embraced and staggering, the legs of the couple hit the table, knocking it and sending the crockery rolling on the floor.

Xara was beyond herself with arousal as she felt a strong desire to throw himself into the middle and fight bare breasted with one of those sweaty women – a desire which was only growing as she discovered that both wrestlers had forced their hands under the opponent's rabbit fur panties to get the best possible hold on the sweaty balls.
Suddenly she felt two strong arms embracing her from behind and then two strong hands grabbed each one of her breasts. She felt two wet solid breasts with stiff nipples mashing into her back, while a voice whispered into her ear: "Did you really believe that I just would lay on the bed with spread legs and open wet cunt, waiting for you to come and fuck me? Oh, no, I'm going to teach you a lesson!"

The AnubisX Multi-Writer Projects!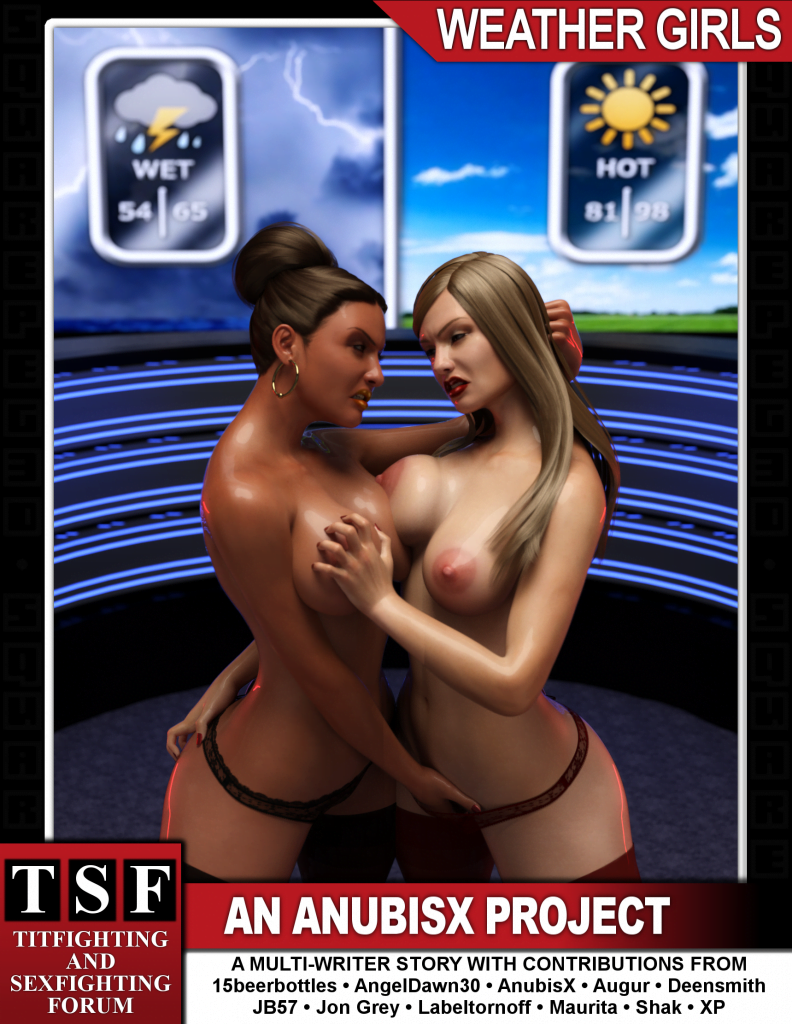 Hostboard's Titfight and Sexfight Forum feels like home. Everyone who has a fetish like ours knows that there will always be appreciation for a community that has the best writers of the genre.
That's why it was inevitable that this would happen: a multi-writer sexfight story that brought together several amazing writers in one and the same story. I'll not say it was easy, because it's complicated that in a busy world like ours we can dedicate all the time that we would want to our passion, but I have to say that each and every one of the writers —both those who have been able to participate and those who haven't— have been really generous.
I'm impressed by the enthusiastic response, but also for the incredible quality of the texts. When I had to edit some part to make the text fits better, or add some words, I always found hard to live up to these writers. So I hope that my fellow writers forgive me any damage I have done with their magnificent words!
Without further ado, enjoy the story!
AnubisX: I found an anonymous story entitled simply SEXFIGHT. A story with 22 sentences and 372 words about two roommates and a rivalry that could only be resolved in one way. Then I had an idea: what if I could find 22 writers so that each one could "blindly" choose one of those sentences and extend it as much as they wanted in order to create a longer and deeper story?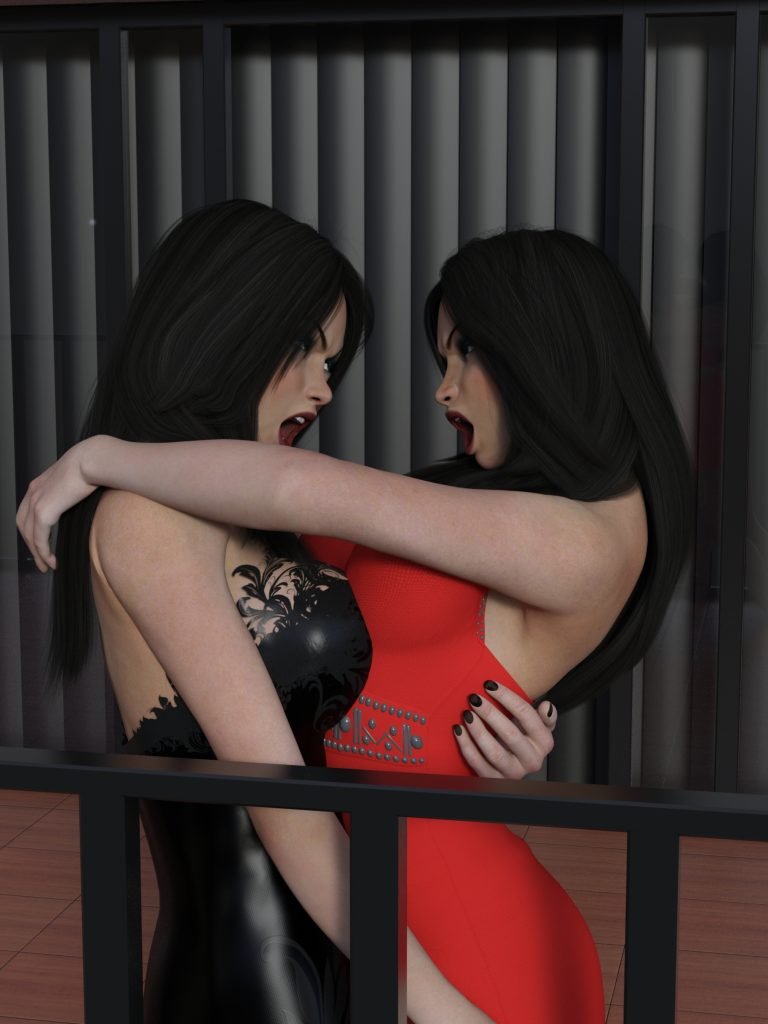 Both hurled each other at the same time. The pop that came out echoed on the balcony and beyond, the two pairs of boobs trembling on impact as the girls moaned together. The brunettes rammed her breasts forward again, María's nipples bouncing against Isabel's before their tits compressed to the point of impact. They continued to move their hips, constantly keeping their breasts in contact as the fat glands slid over each other. María's bosoms were blocked by the rival's couple, but their boobs continued to resist in the same way. With a grunt, they finally separated their sweaty tits.

The N29219 Collection
"I think that's quite enough of that" Bayonetta said. She kicked Samus in the stomach causing her to gasp as all the air was knocked out of her. Bayonetta pushed with her foot causing Samus to fall over backwards. Bayonetta got to her feet and examined the damage to her outfit. Samus had ripped a large hole in the front of it from which her tits hung out of. Samus also got to her feet and watched Bayonetta warily expecting a swift retaliation but Bayonetta just smiled at her. "Are we enjoying the view?" she said she gave her hips a sexy wiggle causing her large breasts to jiggle back and forth.

As the top of Palutena's dress was torn away her large naked breasts spilled out into the open. Palutena squealed at the humiliation but there was nothing she could do about it. "What's the matter I thought a slut like you would be used to flashing her tits," Rosalina said.
"Fuck you!" Palutena shouted back.
"No way this is mine, I won't let you break it as well" Mercy replied. The two furious women began to wrestle over control of the staff. They stumbled around the lab squealing and grunting with the effort of trying to pull the staff out of the other's grip. Moira slammed Mercy into one of the walls causing the Swiss doctor to gasp but she still held tight to the staff which was trapped in between there heaving breasts. "let go you crazy bitch" Mercy said through gritted teeth.

A CATfight/sexfight between DC Comics Catwoman and Marvel Comic's Black Cat!
Mmmmm, it's so good! Read it!
A self-titled catspat between a wife and mistress. A battle to make sure hubby comes to his out-of-wedlock meetups prepped and ready to be ravished.
Ultra hot. Must Read.

A friendly wrestling match between wives entertains and delights!
Give this new writer the read she so deserves!
Robin took her right foot and surprised me by working her foot inside my sweatpants through the leg! She drove her long foot inside my shorts and soon her toes were pushing against my cunt. As her toes curled, she pulled my sensitive pussyflesh painfully. As her toes probed and pushed, she worked her big toe inside my pussy. While not very painful, this invasion at the hands of my archrival infuriated me. I quickly drove both my bare feet into her shorts, one on each side, and noticed that she had also elected not to wear panties.

"Nothing you've got is going to embarrass me, babe. You back off before you get humiliated." Kate punctuated her statement by breast butting Angie, who was knocked back a couple of steps. Both women were still holding on to their breasts. Angie caught her balance and launched herself forward. Kate did the same. They came together in mid air with shocking force, but neither woman gained an appreciable advantage. Both set to relaunch, weapons held high, when suddenly Buddy stepped up aggressively and manhandled Kate away from the building turmoil.

"I can't believe that you think I don't pull my weight around here," Niki said in a very controlled, yet unfriendly tone. Lauren's face was only inches away from her's, as they both stared hard into each other's eyes. Niki could feel Lauren's chest press into her own anytime she breathed in.
This is a story about Mark and Lynn, a young couple living in a typical middle class neighborhood. New neighbors move in across the street and the fantasy unfolds. Mark tells the story.

Nadine let out a low moan of excitement and approval as I did the same. Our kiss began to grow quicker, our tongues moving slightly faster. My left hand sliding down her arm, to her hips. As my hand reached the edge of Nadine's jersey, I slightly lifted it, sliding my hand under it, feeling her bare hips. Nadine let out another soft moan of excitement and approval as my hand slid over her firm belly. Nadine lifted her right leg as to give me no resistance as my hand slowly began to go lower. As my finger tips lowered, I suddenly realized Nadine didn't have on her panties. Nadine's right hand began to cup and stroke my left side of my face. Her left hand still in my hair began to massage me quicker as her excitement grew.
I touch your chest with my fingertips, run them upwards and tickle your neck. My palms then grasp your elbows, and pull them up slightly, forcing you to stand up. Turning you around, I face your teary eyes, as you are not completely recovered from a shock. I purr and slowly push forward, your ass is pressed into the edge of the table, and then my body starts leaning forward into yours, until your blades touch the chess board, and you are on your back.

Star yanked Raven's head up, but just as she tried to gasp in a bit of air, Star applied an epic bitch-slap to her cheek that sent slightly-bloodied spittle spraying outwards and hissing against the live wires. Then, instantaneously, she smashed Raven's face into the gravel-coated concrete a dozen times in rapid, brutal succession, each blow connecting with a sickening splat and the sound of an agonized struggling for breath.
Alexis shuddered as she increased the tempo, "You could tell how much they wanted it. It was so primal watching it." Now the two fighters were grunting like cavewomen, as they fought it out in a pit. The camera picked up their excited mistress; she was squatting to look over the edge into the fighting pit, as she her manicured right hand worked herself, she was dripping onto the leather banquette. Seated next to her was her guest Alexis, wide-eyed at her first ever spur fight, twisting a nipple as she drank it in.

"You like to attack pussies, huh? I have some for you myself!" Rachel screamed. She kicked Lisa's breasts, which sent her flying on her back. She lifted both of Lisa's legs and spread them apart. I had a perfect view of Lisa's pussy. Rachel began stomping Lisa's panty covered pussy. The wrestling boots that Rachel was wearing made the stomps hurt even more. With every stomp,

"It's only a matter of time before you pass out." Erika faintly smiled. Tasha attempted to bridge and roll, but Erika flexed her thighs causing and almost instant asphyxiation. Then, she let the hold lax, enough so Tasha could resume breathing although it was with a struggle.
More Parts of this Epic Tale are Coming Soon!

Love a Story We're Missing?
Comment below and we'll check it out!