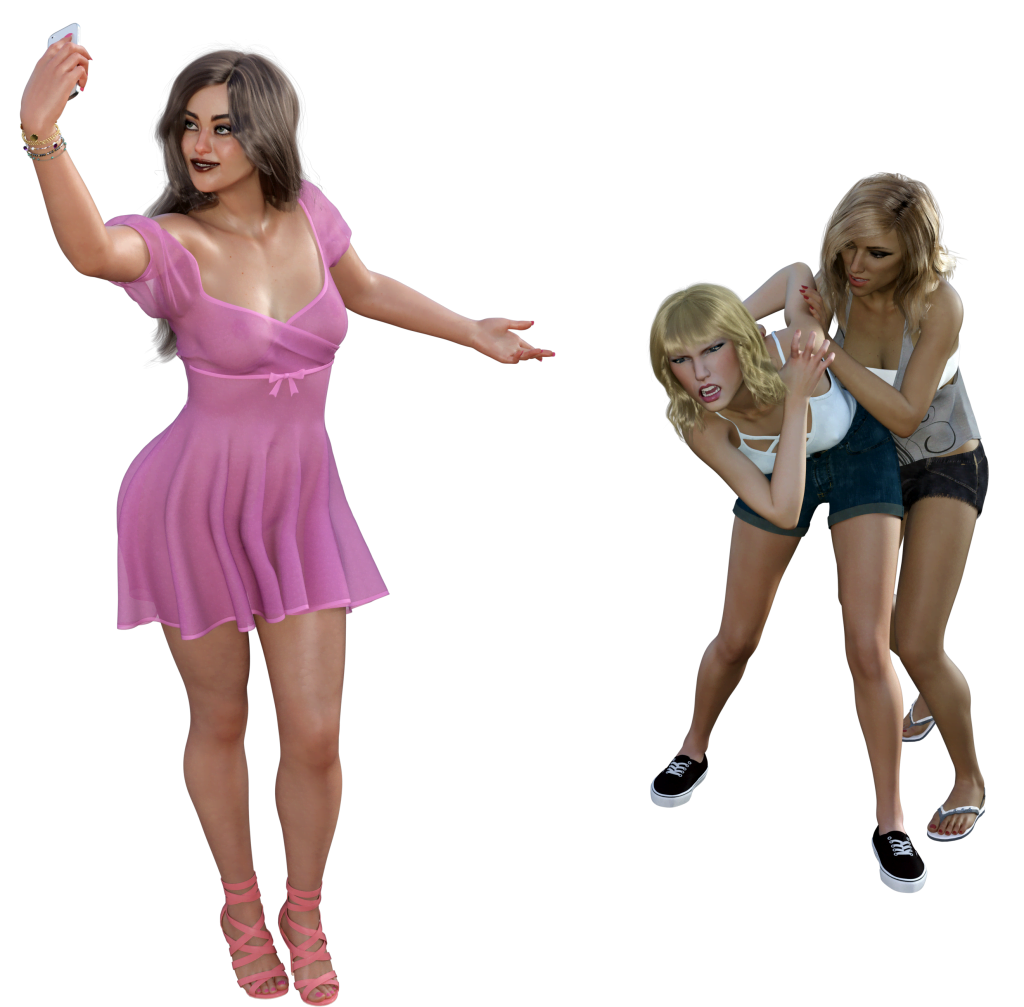 Jennifer "The Better Woman" as Taylor: It hasn't been a year, a month, or even a week. And yet here I am at your door once more. My bodyguard in the lobby. My body covered with a midriff-exposing spaghetti string top, and another pair of short, cut-off jeans. My designed flip-flops already in my hand, knowing how quickly I intend to start when you open the door. If you're home. My courage failing before calling or texting you. This being a visit on a whim. A whim I had while being driven home.

I want more. Of what we had. Of what we shared. The only person in the world who can help me with my catfight fetish. A girl named Britney. One I hardly know. And yet still I knock. My eyes closed, and lips slowly mouthing out, "please be home. Please be home."

BritneyTussles: Sitting on the couch, right leg crossed over my left thigh, foot dangling.. barefoot already.. gazing subconsciously at the TV with Netflix on.. my attention perking up the moment I hear a knock at my door.. I set down my phone next to me before pushing up to my feet.. kinda running through my head who it could be, landlord probably.. but rent isn't due quite yet.. hmm.. I take a deep breath, reaching out with my left hand to open up.. my eyes meeting yours yet again, with my heart sinking down to my stomach.. my body flushing with a cold sweat the very instant it kicks in that you're in front of me.. my mind flashing with memories of just a couple days ago… "Tay… the fuck are you…" my sentence trails off as it clicks as to what you're here for..

Taylor (Jennifer): I wait, and wait, and wait, and finally the door opens and there you are. My Britney. My nobody rival. My godsent enemy. One I step in and towards, pressing my forehead into hers — into yours. My eyes narrowed in a glare, though you can see the glint of excitement in my eye.

Your words of question that trail off not eliciting a response from me, as you already know. We already know. Why I have come back. Why I, a celebrity of the highest tier have come back to your nice, but still middle-class apartment.

The only question being. Do you want it now, as I did? Do you want to fight me? To grab my hair and battle for no reason other than the excitement it brings us? I ask those questions with my eyes. I demand those answers as my body presses into yours hard. Our breasts, through our tops smashing together, my nipples already hard. And panties already damp.

Britney: Your taller skinny figure towering over me slightly.. my forehead pressed back by yours.. your body going up tight against me.. so I back up, letting you bully your way into my apartment.. my door slowly shuts on its own, but slams rather loudly at the end with a firm seal.. I tense up and mutter straight in your face through clenched teeth.. "..oh you wanna fuckin'…" SLAP ..my right hand whips up from the side, tagging the side of your head with a rough one out of the gate.. charging back a step immediately after to reach my left hand up high to latch onto your blonde mane…

Taylor (Jennifer): As I step into your house, and then into you, I testing how much our first and only encounter changed you. If it instilled in you my desires and my needs. If in that sharing of pain and pulling you, via osmosis, have caught the addiction.

And though at first, you retreat. Giving me space and entrance, suddenly you harden. Push back into me, and then once more ask in words that trail off. Asking if I want it. What we had before.

But you know. Before you have even finished speaking your query. And so you slap me, hard across the cheek. Your palm splashing down and turning my head to the side. My own hand on that side moving to the place where you struck and holding it gently as my eyes closes and I lick my lips.

But just as I seek to enjoy that slap. The answer of all of my questions. You reach out with your left hand, and grab my hair as you press back into me. And when you do I reach back, and once more we are bound. Hands in hair. Body to body. And at war once more.

Britney: I thrust my small tits up under yours as I bully forward with a SLAP of my hips.. your hands quick to reach up to latch fingers in my hair to consent this deal.. I body up with you, staying stiff to hold my ground.. showing you yet again that I'm not some pushover.. my feet plant as I stay firm.. my left hand keeps in your hair, giving your head a TUG straight back to make you look up to my ceiling.. my right hand swinging around with a SLAP SMACK to your back before latching onto your tank top for some support early…

Taylor (Jennifer): Just as I bullied you –bodied you when I invaded your apartment only a moment ago, as our second fight begins, you push me back and into the wall of your entryway. You slamming me into it, and then flattening yourself against me as my head tilts back between coats hung on the wall. Your unbound hand grabbing at my tank top as leverage as your pin me.

"You bitch…." I mutter, letting myself sink into the moment entirely. My flip-flops, which I dropped at the moment you slapped me, lying beneath our feet.

Britney: I wrench your head back up against a coat hung against the wall.. my right foot sliding back to plant to the floor behind me.. my left hand keeps in your hair, holding your head in place with a small fist stuck to the side of your skull.. my right hand swinging up to awkwardly ram up against your mouth/chin.. shoving your attention to the side.. leaning into your good n' hard.. "You… you wanna see.. bitch..?!" ..I lift my right hand from your face just slightly to whap back in two stiff palms to the side of your mouth/cheek.. PAP THAP* before joining in your hair….

Taylor (Jennifer): For a moment I feel it. The same sensation of shame, regret, and frustration as when you had me pinned on my stomach at the end of our last fight. Even though in this moment, as you keep me pressed and flattened against your wall, I am able to reach you. To yank at your hair and hurt you. But still, you have me.. Your right hand lifting up and after you threaten me, your voice strong and growling like that of a tigress, you slap me. Once and then again. Not brutally, but almost as a tease. A sharp, stinging tease that comes once and then again.

And when it does, in a rage, I drive forward, and into you. Not straight on, but at an angle. Trying to turn us. To roll us on the wall. And though I do achieve that goal, forcing us to spin once, twice, and then a third time, only narrowly dodging each of the coat hooks on the wall, at the end of our motion you once more slam me back into the wall. My effort done little other than move us deeper into your apartment.

Britney: I shift as you pull hard on my hair, rocking me to the side.. but then over not once, but twice again.. lost in the moment.. but suddenly finding you back up against the wall.. my weight staying heavy on you, my right foot planting behind me again to brace up against you.. my left hand in your hair, re-gripping just above your right ear.. my right in your hair too at the top of your head.. I take a sudden rough step backwards and make sure to YANK your head down in front of you, looking to bend you at the waist.. "NNRUH!" ..grunting with effort..

Taylor (Jennifer): I want to slap you. I want to bite you. I want to make you cry for me and beg me to let you go. But at that moment I am stymied. Stuck beneath you, and so all I can do is growl. Growl and imagine the ways I will hurt you when I get free.

But before I can even begin to form a plan to make those dreams reality, you grab my hair and yank me down at my waist. And when you do I charge. Hard and forward. Driving my shoulder into your tummy and pushing you forward, off your feet, over the arm of your nearby couch, and then onto it. My body climbing atop yours and into a straddle as I bury my hands in your hair once more. "You stupid bitch! I'm going to ruin you!"

Britney: You PLOW forward, driving your boney shoulder into my midsection and reeling me backwards.. doubling over at first before my feet begin to stumble, shuffling along the living room floor until I'm met with the arm of the couch.. your momentum taking me backwards with you coming forwards.. I need to ease off on your hair just to plant up against your fit skinny core.. my arms stiff as you sink me straight down to my back and into a quick straddle.. "NUH!" ..grunting up at you, eyes narrowing, teeth clenched and showing.. forced to have your words bear down on me…

Taylor (Jennifer): With you finally beneath me, and free of your infuriating control, I lift both hands from your hair and start slapping at you. Your face. Your still-covered breasts. Your fit little tummy.

All as my my left leg braces against the floor and my right sinks at a bend between your hip and the couch. My tight jeans straining as my fit ass and clothing-held womanhood press down on your mound.

Britney: "Muh!" "Nuh!" "Mah!" ..short little whimpers escaping me, my stomach tight, face twisted as you rain down these wicked girly slaps all over.. my forearms covering up my face for a moment, taking a few hits to my guard as well.. you posture up well, left foot planted with that long leg extended.. your right knee slipping over my hip, thigh to the back of the couch, wedged with me under your firm mound.. I cringe and swat back up at you.. left and right hands flying up that short distance to clip off your chest, chin, neck, shoulder…

Taylor (Jennifer): None of my slaps devastate, but in sum and total they hurt. And so you raise your arms to protect yourself, only to then use those same arms to slap back at me. Your hands, like mine, not aimed well or thrown hard and yet still they sting when they crash into exposed flesh and rigid nipples.

So much so, in fact, that after too many such strikes have landed I lean down and into you. Slamming my breasts and body into yours and then grab for two handfuls of your once again. Wanting the slapping pain to stop, and feeling almost safe in a body-to-body clinch like this. Our warm cheeks sliding past one another as I place my lips to your ear and whisper. "I hate you, Britney…."

Britney: You lowering yourself down on me.. keeping that left leg planted, yet still in quite a firm straddle.. keeping my back and shoulders to the couch.. blinking up at you, then cringing as you hiss past my ear, chest to chest with me.. my heart racing.. your words so clear, making my blood boil inside me.. body tensed up, just taking it in the moment.. both your hands TIGHT in my hair.. making sure to trail my hands up your back, grabbing on your hair at the back of your head with two sets of clenching claws.. gripping.. holding your head down in close to me.. "I.. I fucking.. HATE you TOO!" ..growling.. giving your head a YANK straight back..

Taylor (Jennifer): Hearing you say it. Hearing you reply to my promise of hate makes my skin go flush with goosebumps and a shock of electricity to run up my spine. A spine you wrench back at it's cervical region, forcing me to pull my lips from your ear. And though you move me that far, as our red cheeks once more glance, I lean in, past your pull, pressing my forehead to yours as I growl at you. Face-to-face and eye-to-eye.

"I'm never letting you get up from this couch!" I swear through bent lips, while I yank your hair hard to the right and then back to the left. My left, off-the-couch leg moving to find a better position to balance myself, but as it travels, I am left vulnerable.

Britney: Your words intense as fuck, letting me know what's up.. forehead to forehead with you, up until you YANK my head off the couch a bit as you pull to your right, then back left again harshly.. your left leg moving up, sensing my time to try and bolt of out this bottom game.. I BUCK my hips up from behind you and shift my weight to my right and kinda throw myself off to the side.. while yanking DOWN on your hair, looking to bring your face down to the couch while I attempt to slip out from under you.. "NNRAH!"

Taylor (Jennifer): For hours, weeks, or even days I imagine myself keeping you beneath me and trapped. There on your own couch. There, wincing and whimpering in pain. But as I try to solidify my position, you move quickly. Rolling out from beneath me and off the couch, all while dragging my face into the couch cushion. So hard, in fact, that I collapse forward. My face falling where the back of your head had just rested. My tummy and perky breasts landing flat, while my legs in a kick panic. Knowing that I couldn't be more defenseless at that moment.

Britney: I pivot on my heel and make sure to PUSH your face down into the couch cushions.. my other hand joining in your locks to keep your head there.. standing back up straight, planting my feet before inching closer to throw my right leg up and over your backside, sinking my mound down against your lower back.. "Bitch!" ..I hiss through clenched teeth, my eyes narrowed and focus.. fire inside, about to unleash… heart racing.. taking this moment to soak it all in.. "What's up, huh?" .. "HUH?!"

Taylor (Jennifer): It's all happening again. You crawling on my back. Your mound sliding down my ass and into the small of my back. I won't let it happen again! I can't let it happen again! I say to myself, just before, in a quick and violent spin, I turn over.

Even with your body coming down on mine.

Even with your hands tangled in my hair. My rage pushing me through the pain of those same hands trying to hold me in place, as with my right hand, and as I move, I reach out and slam my palm across your face hard in the hardest slap I have ever thrown.

Britney: You explode and seemingly roll under me.. working your way to your back, but having me sinking back down to straddle your flat heaving tummy.. hands stay in your hair, holding the back of your head down to the couch.. opening me up for a real HARD SLAP across my face, snapping my attention to the side with a rough involuntary GRUNT escaping my lips.. wincing me good.. my left hand letting go, throwing my forearm up to cover my face.. my right hand keeps in your hair, holding on.. panting.. "OW-ah….. bitcha…."

Taylor (Jennifer): So close I was to being under you and trapped once more, but because of my spin and my slap I have you reeling. On defense. And only clinging to me with a single hand in my hair. And though I know I can't just escape the couch, I still move. Still lean up. And still wrap my arms around your middle back and lock them together with clasped palms and binding fingers. My cheek pressed just between your breasts as I try to squeeze you. To hurt you. And to make this placement on the couch something you are desperate to free yourself from.

Britney: Flinching as you stiffen and sit up.. your long slender arms wrapping around me with a tight little squeeze.. subduing me for the moment, forced to just take it and hold my breath.. my face twisting from the instant pressure.. "HHNNGH!" ..leaving your hair just to throw my arms around the back of your head, pulling your cheek up tight into my small perky chest.. "NNGH!" ..straddling your lap firmly.

Taylor (Jennifer): "I got you, bitch. I got you." I mutter again and again as I squeeze you. Pressing my upper body into yours to try and make you lean back. To make your entire back hurt, not just from my tightening. And as I do, my heavy breaths releasing just above your still-clothed breasts, I grunt softly. Trying to wear you down and make you tired. So that for the rest of our battle you will be mine to toy with.

Britney: My head lashing back, my face a mask of pain from the pressure you're giving.. my back arching, your arms clutching tightly, squeezing my core and draining some energy from me.. my eyes shutting tight, teeth gnashed.. I SLAP the back of your head with my left hand, latching onto hair again with stiff tug straight back, pulling your face away from my chest.. my right hand reaching up to grip the top of the couch for support.. my thighs pinching your sides snug…

Taylor (Jennifer): You're breaking free! You're breaking free! I know it, and I have to act. And so I do, but so do you! And in our combined efforts I scoot and try to stand, just as you tighten and bend me back. And in the maelstrom of both I lift up, and then with you in my lap fall back. Not on the couch, but off of it and to the carpet floor. You landing in a straddle atop me, as my arms break away from your body.

Britney: I DROP down to the floor with you, my butt and mound landing tight against your skinny middle.. "MUH!" ..I lean in on top of you.. my hands immediately letting go of your hand to fish my hands down to catch your wrists.. looking to bully them forward and down to the floor above your head.. grunting with effort.. throwing my chest down onto yours.. "NRAH!"

Taylor (Jennifer): The crash of me into the floor and then you into me is too much to recover some quickly. Something you are spared from, with me as your cushion. A cushion that doesn't resist as you lean down, grab my wrists, and then pin them to the floor. Your body pressing down into mine. Our smaller breasts meeting and flattening as your face and mine come to a stop only centimeters apart.

A distance over which I glare at you. My eyes on fire with anger, as my bare souls press down on your floor.

Britney: I keep your wrists nice and tight, forcing your long arms to stretch and get pinned to the floor above your head.. I can feel your lower body shifting slightly.. that's the moment you plant your soles to my thin carpet.. my mouth hanging open, breathing.. then basically talking straight into your mouth.. my lips awkwardly brushing yours as I snarl.. eyes locked and narrowed.. weight bearing down on you.. "Think you can.. think you can just.. come here.. and… NNNGH!" ..I growl..

Taylor (Jennifer): There in the closeness of your pin. Your outstretched arms keeping mine from getting free, our eyes etched in flame as we glare. Each of us adjusting and shifting as I try to find an angle to get free and you try to keep me from doing just that. Your lips brushing mine again and again, as between words we fight for the same breath. "Fuck you, Britney! Fuck YOU!!! You want this just as bad as I do, you BITCH!" I yell back at you, even as you continue to growl at me. Neither of us repulsed or revolted at close we are to one another, the intensity of the moment and our struggle making it all ok.

Britney: Keeping you tight, glaring.. hissing back down into your mouth.. "I'm going to make you fucking QUIT, you BITCH!" ..I POP upwards suddenly, lifting my chest from yours as I lunge forward, taking initiative of scooting up your body.. shifting my V from your stomach to your chest.. plopping down in a TIGHT schoolgirl pin.. using my knees and shins to help pin your arms down to the floor so I can let go of your wrists… "NRAH!"

Taylor (Jennifer): In that moment I could exist forever. The red hot hatred we have built for each other coursing through our bodies and in a closeness so intimate, I can taste your every curse. But in response to my words, you bolt. Up me, and over me. Your knees and shins moving to press down on my biceps, to keep them pinned.

And though you find and secure my left arm, my right evades you long enough for me to reach up and grab your hair. A grip I use to yank back, and throw you forward and off of me to the carpet. There you turn from your tummy to your back, and when you do you find me diving forward and on top of you. Not to remain in the place I land, but in a scramble. One that takes me exactly where you sought to go. My shins moving to pin your biceps and my thighs closing in about your cheeks. Can I catch you? Or will you escape me. In seconds we will know.

Britney: I manage to scramble up on top of you, but it's extremely short-lived.. your right hand somehow able to snag my hair, using that to PULL my head roughly to my right and sending me rolling over to my back.. you're on top of me before I can even blink.. unsure how this got me here.. my back and shoulders pinned to the floor, glaring up at my own ceiling.. wincing HARD.. your shins catching my biceps, your thick thighs closing in, framing each side of my face firmly.. "NNNNGH!"

Taylor (Jennifer): One by one, my placements touch down. My left shin, then my right. My toned ass and my kitten center pressing down on the last length of chest before your neck. Each securing you more and more under my control. And when finally I have you. Beneath me, and trapped enough to look up into my eyes, I smile — wild and wickedly.

At the sight I see your fierce eyes harden and heat. Your lips open and prepare to assault me with words and venom. And when they do, I simply reach down with both hands, and with my left seal my palm over your mouth, and my right pinch your nose closed.

Britney: "GET THE FUCK MMNNNPPHH!" ..my eyes grow wide up at you.. tears forming at the sudden placement of your left palm, shoving down onto my open mouth.. your right hand pinching my nose shut to seal the deal.. "MMNNMMPH!!" ..my stomach in knots, breath cut short suddenly… my legs thrashing left, then right.. feet stomping the floor of my apartment… panic mode setting in…

Taylor (Jennifer): As I see tears well in your eyes, and feel you kicking and thrashing beneath and behind me, I suddenly release your mouth and nose, let you take a DEEP breath, and then as soon as you have sucked it into your lungs, clamp my hands back down again. Cutting off your air. Your hope. All as I whisper above you.

"Just nod, Britney. Just nod, and this'll all be over."

Britney: Struggling to even breathe through my nose! ..you release just for that moment.. sucking in a panicked breath, eyes still wide.. but then squinting down tight as you latch back on, pressing down into my mouth and closing my nose shut.. "Mmmnnng…….mmngg……" ..my feet slapping the floor violently…. suddenly just rocking my head up and down the little room I can, signalling my submission to you…

Taylor (Jennifer): At the very moment you nod, I let go of your nose and mouth and let you breathe again. And though I do, I remain sitting on your upper chest. Staring down at you for a moment that lingers. My lips not parting to say a single word, my smile having faded — replaced by nothing but a slow study of your face. As I wait for you to speak. For you to demand me to move.

Britney: Resting there.. flat on my back.. my mouth gaping open wide as I exhale violently and such air back in just as harshly… weight on my chest, straddling up in a high schoolgirl pin.. my arms up over top your thighs.. hands resting on them… letting it sink in what just happened.. "Get….. get off me…" ..I pant, quietly….

Taylor (Jennifer): Once again, when you ask, I do. Moving up and off of you, even reaching down and offering you a hand. To pick you up from the floor and to a stand. Knowing that, despite the fire our battle, both the first and this second one, we each must feel safe. To fight, to submit, and then to leave — if there is to be a chance for more.

Britney: Staring up at your offering hand.. hesitating.. but then reaching up to clasp it.. helping me to one foot, then the other.. standing in close with you suddenly.. yanking my hand away from yours.. tending to my hair with my left hand.. my right hand coming up flat against your tummy with a little shove.. panting.. taking a few steps to my left.. Wincing…

Taylor (Jennifer): I help you up, and for a moment we linger. That is until you yank your hand from mine and then push me away. Not with force, but softly. Wanting me and the memory of what just happened out of your face and hair. Something I give you, as after a quick study of your shamed face, I turn and walk to the door. Leaving you behind once again. This time, with a settled score.
The End

For More Sexy Chat Logs, Click Here!